Burgers Ordered: Brad – Willson's Burger; Ronna – Sledding Hill Sliders
The Experience: The Burgermeisters operate Burger Weekly off of a series of lists.  In New York City, they operate off of the Upcoming Adventures list.  When they go out of NYC for a Foreign Affairs report, they tend to pick Burger Adventures based on lists for that as well.  Brad's burger meals in his home state of MIchigan typically come from a list that was written by the Detroit Free Press.
On this night however, Brad and his mom had to find a burger joint on short notice, and a recommendation from a neighbor put them in Willson's Pub 'n Grill.  Willson's has a big burger menu, with a few signature burgers that can be ordered at one-half or one-third pound, and a giant list of add-ons making for a brilliant build-your-own-burger section.  Brad ordered Willson's namesake burger, while Ronna took it a bit more easy with sliders.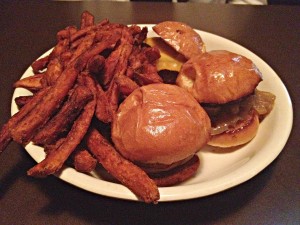 The Taste: The 1/2 pound Willson's Burger was cooked perfectly medium rare and had a phenomenal, flavorful taste.  It came topped with sauteed mushrooms, sweet onions, and smoked cheddar.  The brioche bun was buttered and toasted and held up perfectly to the waves of juice pouring from the patty.
The sliders were obviously made with as much care as was put into the full burger, though they were in fact mini burgers and not true sliders. The tiny buns were also brioche, toasted and buttered.  The small slider patties were actually pink inside, despite Ronna's inability to order the mini burgers by temperature.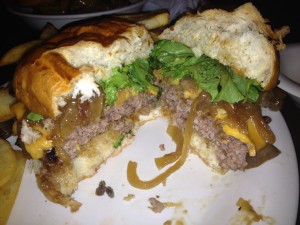 Brad ordered steak fries.  Ronna ordered sweet potato fries.  Both noted that the sweet potato fries were crispier than restaurants typically serve them.  They were also delicious, and so were Brad's steak fries.
The Verdict: Willson's isn't the most well known burger joint in suburban Detroit, though it was called the best new restaurant of 2010 by the Oakland Press.  Add Burger Weekly to the list of admirers or Willson's offerings.
Willson's Pub 'n Grill is located at 2256 Union Lake Road in Commerce Township, Michigan.