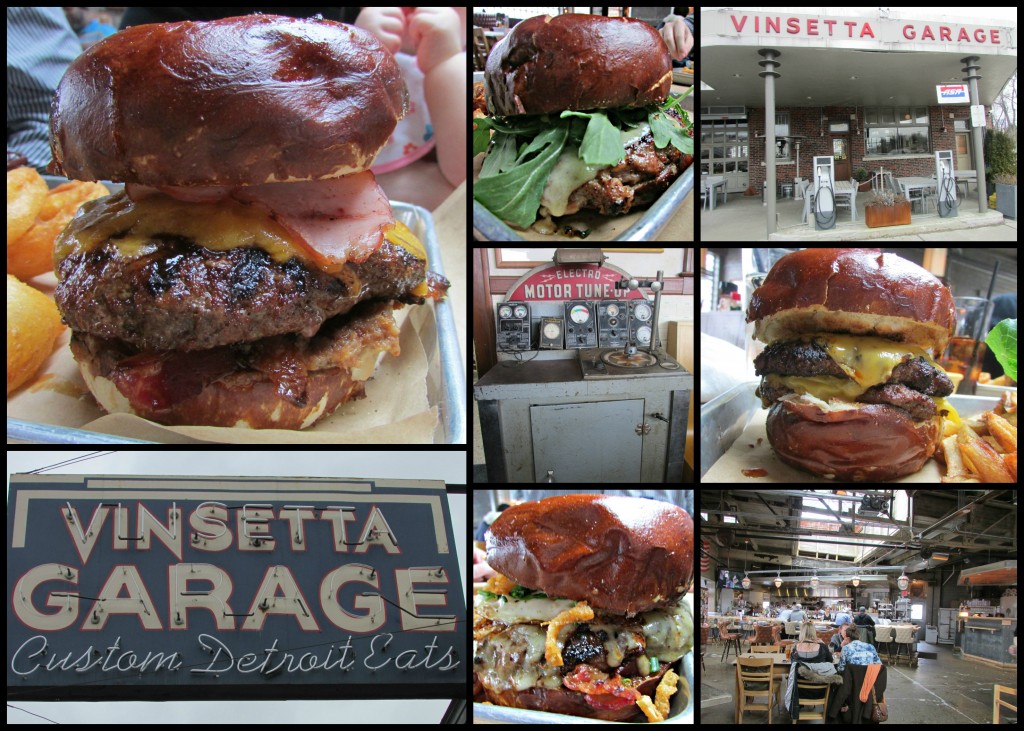 The Experience: Detroit made its name and fame through the automotive industry. The glory days of Detroit automotive may be gone. The region is often characterized as one in dire need of reinvention. The brains behind Vinsetta Garage must agree, because they took a Woodward Avenue institution, and within its shell they have built one of the most successfully nostalgic and delicious eateries in Southeast Michigan. The way the restaurant pays honor to the car-centric history of the building is nothing short of fantastic, all metal and wood and gears and gadgets.
Autoweek publisher KC Crain and restaurateur Curt Catallo put chef Aaron Cozadd in charge of the foodstuffs within the over-90-year-old building, once considered the oldest garage east of the Mississippi. So how did Vinsetta do when the Burgermeisters came with a furious hunger?
Burgers Ordered: The Vinsetta Burger, the 3 A.M., the Macon Bacon, and the Duck Burger.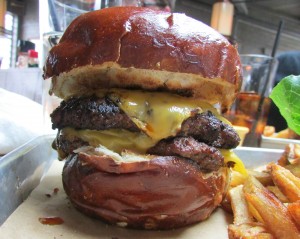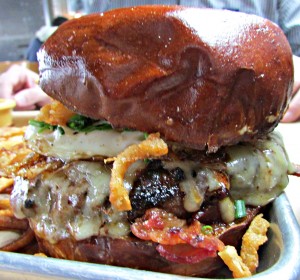 The Taste: All of the burgers came sandwiched in pretzel rolls and served on metal serving trays. The 3 A.M.'s patty was cooked perfectly and had a great flavor. The egg was expertly done to compliment the burger and not overwhelm it. The bacon, aioli, and crispy onion strips did the same thing, leaving the burger in graceful harmony.
The signature Vinsetta Burger was something of a quiet masterpiece. The double stacked four-ounce patties were succulent and savory. The American cheese oozed over each patty. The Burgermeisters were impressed with the bacon, but were most excited about the Topor's pickles that topped the burger. A Michigan speciality, it is hard to argue that any other dill pickle could be considered in the same league as Topor's.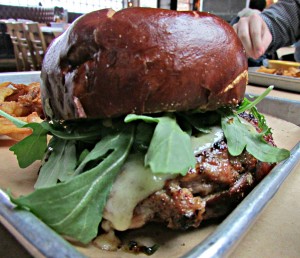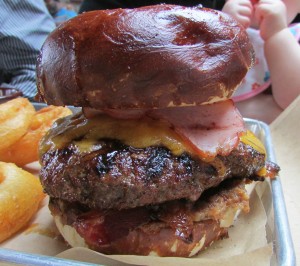 The Macon Bacon, which had the same angus patty as the 3 A.M., was topped with maple bacon, pancetta, grilled Canadian bacon, house-made bacon jam, and smoked cheddar cheese, was one of the most intense burgers ever presented to a Burgermeister. It was cooked immaculately. The bacon flavors were anything but redundant, though anyone who is the least bit averse to pork or salt should stay miles away from this porcine perfection.
The Duck Burger was topped with a cherry compote that flawlessly grouped with the arugula, Gruyere cheese, and duck patty. The meat was tasty and had a delightful texture. Vincetta Garage properly produced an excellent combo of sweet and savory with the Duck Burger.
The Verdict: Though many of the burgers were hefty, the buns all held together without incident. Between these excellent pretzel buns, the incredible burgers, and the fabulous fries and onion rings, Vinsetta Garage has to be considered a strong burger staple in Metro Detroit.
Vinsetta Garage is located at 27799 Woodward Avenue in Berkley, Michigan.