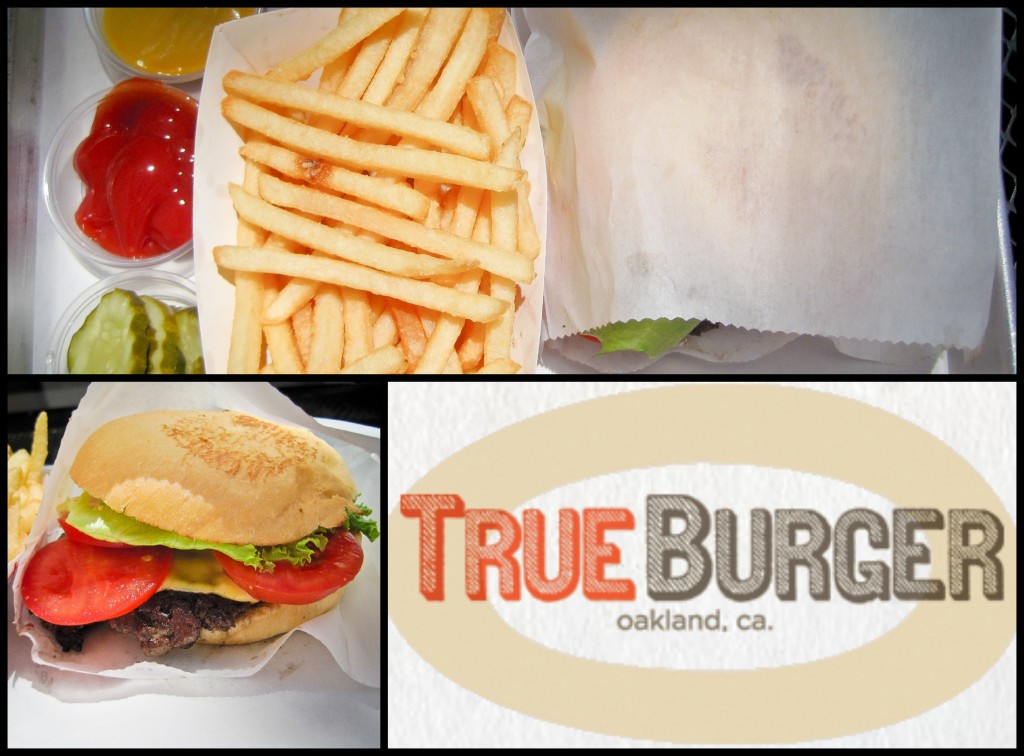 The Experience: Trueburger is in a small corner building just a block from Lake Merritt in the shadow of the downtown Oakland. Though I drive that route often, it was months before I noticed the unassuming oval sign hanging above the restaurant's one-table patio. My first impression was that it was oh so, the Bay Area… and I wasn't wrong. The décor of the place, including the menu hanging over the condiments stand, was "modern retro": Customers ate their lunch served on paper-covered metal trays while sitting at solid wood tables and chairs. Standing in line during the lunch rush with a dozen or so other people, I noticed a table of auto mechanics wearing the familiar VW logo, a group of construction workers in their orange jumpsuits, and three women wearing almost identical black business suits and white sneakers.
Chef-owners and East Bay natives Greg Eng and Jason Low have cooked at some of San Francisco's best foodie establishments, and when they teamed up to open their own restaurant, they wanted it to be a place where people could get great food at a good value. The burgers are hand-ground in-house out of certified Angus beef, cooked to medium, and to keep the fixings simple (perhaps in order to keep that lunch line moving), they serve them all with lettuce, tomato, and garlic mayo. Raw onion, sliced pickles, and other condiments available on the side, but you won't need them.
The Burger Ordered: Cheesy Trueburger and French Fries
The Taste: Not knowing what I was doing, I picked up my tray and stepped over to the condiment counter to fill paper cups with ketchup and mustard. Fortunately, I had the sense to taste the burger before slathering in sauce it didn't need. The burger had a nicely charred crust making it crispy on the outside, juicy on the inside. It was smothered in melted American cheese, so soft I actually wondered if it was Cheez Whiz, but it tasted a lot better. The lettuce crunched under my bite; the thick tomato slices were sweet and ripe. And that garlic mayo was all it needed for sauce—just enough salty and garlicky to satisfy a craving, without sending you back to the office in need of a piece of gum.
The Verdict: I was already thinking about my next Trueburger as I walked away—the Bacon Cheesy perhaps? If you're located in Oakland, this is definitely your burger spot. In terms of value, it's more expensive than regular fast food, but for $10 bucks (for a burger and fries), you're getting food made fresh and from quality ingredients, served up by your neighbors. Definitely worth the extra four dollars. My only criticism has to do with the ciabatta rolls custom-made for the restaurant: while delicious, they are easily soggy. Don't take a Trueburger to go. Grab the patio table if you can, or saddle up to the counter in front of the window and take a few minutes to enjoy your burger hot. And if you still have room left, you can order yourself a homemade milkshake or root beer float for dessert.
Trueburger is lcoated at 146 Grand Avenue in Oakland, California.
You can read more from Jenn at One Way Ticket.