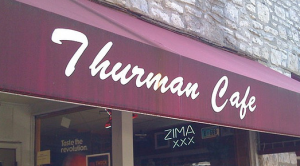 Burgers Ordered: Rob & Jenny – The Thurmanator.
The Experience: The best way to become a Burger Weekly Foreign Affairs correspondent is to go on a Burger Adventure with the Burgermeisters in New York City.  Newlyweds Rob and Jenny did that at Black Burger a few months ago.  Since then the couple left NYC for married life in Ohio.  But while they were willing to part with the big city, there was no way the love of burgers could be removed from their hearts.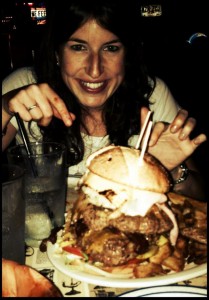 Thurman Cafe is home to what is probably the most nationally famous burger from Ohio.  The Thurmanator is one of a few signature burgers at Thurman Cafe, and by far the most notorious (thanks mostly to a feature on Man vs. Food). It stacks up as follows: bottom bun, mayo, lettuce, tomato, pickle, banana peppers, 12 ounce burger, bacon, cheddar, another 12 ounce burger, sautéed mushrooms & onions, ham, mozzarella & American cheese, top bun.  It also comes with fries.
The Taste: Rob and Jenny weren't foolish enough to try to tackle the Thurmanator individually, splitting one between them. Rob said eating the Thurmanator was like eating a double bacon cheeseburger and simultaneously eating a ham and cheese and grilled onion sandwich.  Jenny said she ate it in two halves and that she liked the bottom half more than the top.  Overall she said it was pretty satisfying and cooked perfectly.

The Verdict: Big burgers are always a gamble, because some burger joints let the quality of the meat fall as the quantity of the meat rises.  The Thurmanator is structured in such a way that the flavors vary based on what part of the burger is eaten, keeping things interesting and tasty.
Thurman Cafe is located at 183 Thurman Avenue in Columbus, Ohio.