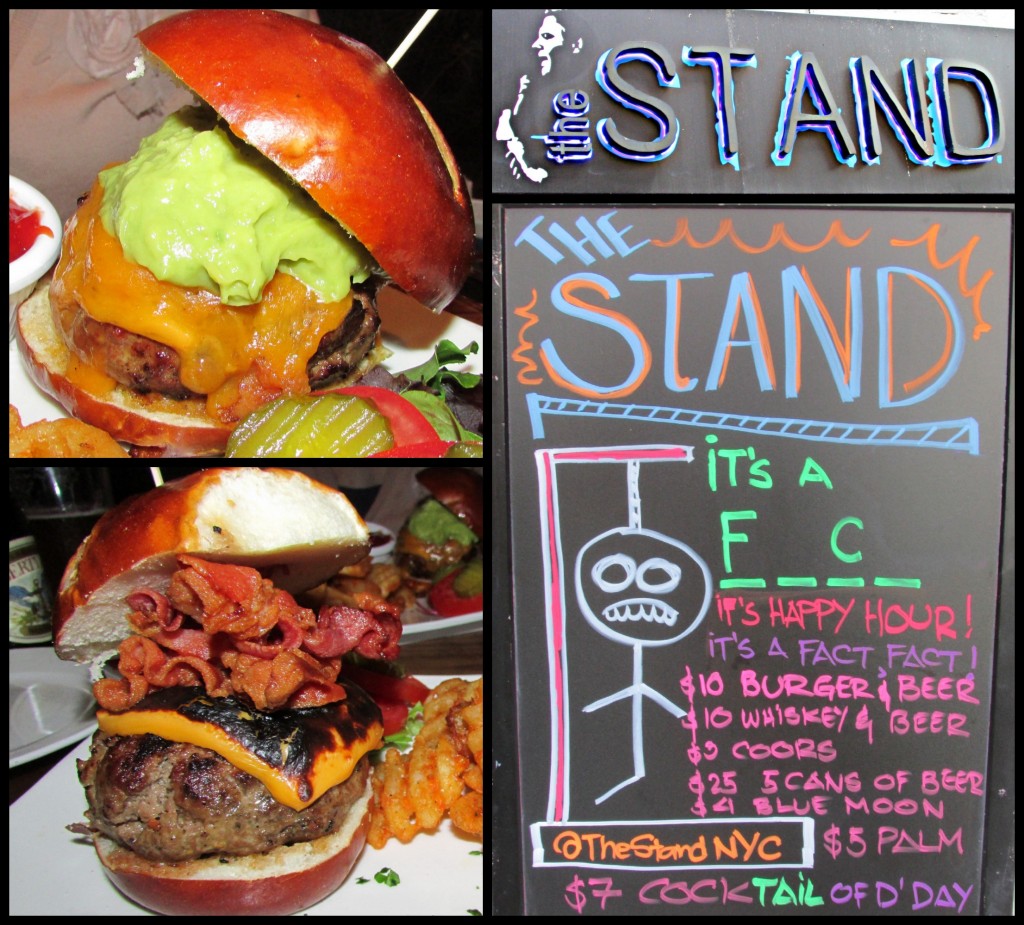 The Experience: One of Burger Weekly's favorite New York City burgers of all time was at Stand. After closing a few months back, the Burgermeisters were looking for a new "stand" to try a great burger. Thankfully for them, the Stand Restaurant & Comedy Club was getting some buzz for its pretzel-bunned hamburger.
The restaurant half of the Stand is quite nice for a comedy club. Given the comedy boom of the last few years, there is no shortage of clubs in New York City, but this one definitely put a fair amount of thought into its edible half. Shortly after being seated and served with beers by the incredible waiter Ryan, the Burgermeisters were ready to dine on beef and pretzel.
Burgers Ordered: The Bacon Stand Burger and Avocado Stand Burger.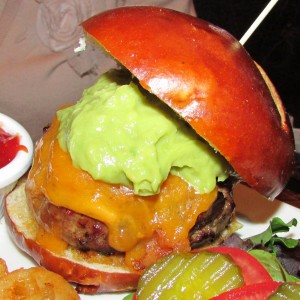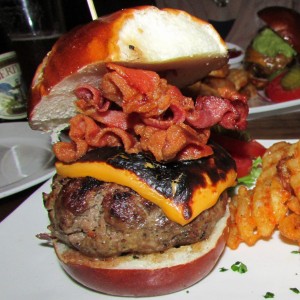 The Taste: The pretzel bun stood out as a real treat on this burger. It carried the entire meal. It also held up well to the juicy yet slightly overcooked burger. The patty was hefty, and seasoned with a lot of black pepper. The Avocado Burger was actually topped with guacamole, which tasted quite good. It paired well with the cheddar cheese. The Bacon Burger was topped with American cheese. The cheese had an interesting char, and the bacon was salty and delicious. This was a very filling meal thanks to the hefty bun and thick patty.
The waffle fries were stellar. They were crunchy, yet full of fluffy potato, and seasoned with expert technique. The Stand also played music that was very appealing to fans of early '90s rock/alternative.
The Verdict: A serviceable burger and great service make this a "stand-out" comedy club dining experience. Be sure to emphasize that you don't want your burger cooked through, and enjoy every bite of that pretzel bun.
The Stand Restaurant & Comedy Club is located at 239 3rd Avenue in Manhattan, New York.