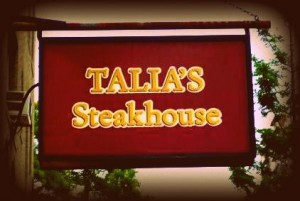 Will the Chosen choose this burger?
 Burgers Ordered: Ben, Randi & Josh – The Quarter Pounder; Alana & Ariel – Quarter Pounder with Cheese; Brad, Matt, Yona & Tzipora – 10 oz. Burger; Orlee – 10 oz. Burger with Cheese.
The Experience: Burger Weekly is half Jewish (the Brad half).  As such, there are a large amount of Little Meisters from Brad's life (and a couple from Matt's) that are almost never able to participate in Burger Adventures because most burger-serving restaurants in New York don't cook with kosher meat.  The pressure eventually got to be too much, and the Burgermeisters agreed to get a group of Kosher Meisters together for a dairy-free excursion.
For those not well-versed in the rules of kosher dining, the primary guidelines are that the meat must be prepared a specific way, going all the way back to how the cows are kept and slaughtered, and that the meat never be in contact with any dairy.  Talia's boasts a cheeseburger substitute, using tofu cheese instead of cheese made from milk.  Matt and Brad weren't brave enough to try this curd-free concoction, but a couple of their more kosher friends had more guts.
Taste: Brad and Matt decided that the best way to give all you Little Meisters an idea of the quality of Talia's burgers would be to first let the Kosher Meisters, Talia's prime demographic, speak on their meals first, and then chime in at the end with how these burgers stack up to their treif (Hebrew for unkosher) alternatives.
Ariel's Quarter Pounder with Cheese was smaller than she expected.  Clearly, as an amateur Meister she doesn't know my burger sizes well enough.  She liked the taste of the burger, which she topped with lettuce, tomato and ketchup.  She also loved the Talia Homemade Fries.  She did leave feeling unsatisfied with the small size of the burger, and said she'd get the larger version next time.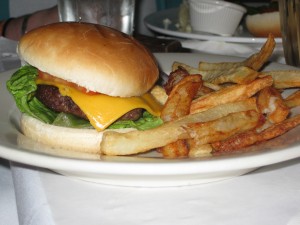 THAT is a teeny tiny burger.
Ben waxed poetic on his experience: "Whenever talking about Kosher food you always have to give the caveat that there are certain norms to be expected in terms of price. You go in understanding that you pay more to have kosher meat. With that said, I have to say I was disappointed with the size of the burger; four ounces for 13 dollars. With that monetary frustration aside however, the burger was quite tasty and well cooked. This alleviated the frustration to some degree. I would probably not rush to go back to Talia's unless it was on someone else's dime."
Alana had a lot to say as well: "Eating the burger at Talia's was a lot of fun. I'm usually not such a Hamburger fan but I was willing to give it a shot for Burger Weekl. Surprisingly, I actually enjoyed eating the burger and found it pretty satisfying. At first I was super surprised by the size of the burger and how small it was, but as everyone pointed out the menu did explain that it was a 1/4 pound. I just don't know enough about Hamburgers to have realized how small that was. The burger itself was good! I thought that I had ordered it to be Cajun but I never tasted anything spicy. My favorite part of the Hamburger would have to be the tofu American Cheese. As someone who keeps kosher I never get to have cheeseburgers. So it was exciting to get to try that out for once! Overall, it was a really fun experience and I've decided that in my life I need to give hamburgers another try!" The Burgermeisters are VERY pleased to have converted Alana to a burger-eater, even if she'll only ever eat kosher burgers with fake cheese.
Like many Jews of her day, Randi has a gluten allergy. Because of this she eats her burgers without the bun, so it's important that the patty has a lot of flavor.  She felt that Talia's burger did not. She ended up smothering it in an absurd amount of pickles, ketchup, and mustard.  She said that it was fine, but that she definitely could have made a far better kosher burger at home for a fraction of the price. She was also disappointed in her side of coleslaw, which had so much mayo that it was inedible.
Josh didn't say much about his burger, just that it was fine and nothing special.  He ordered an eggplant and mushroom salad instead of fries, and raved about his rabbit food. After the meal was over Josh said he was ready to eat another dinner, as the Quarter Pounder didn't satisfy him.
And now we move on to the 10 ounce burger.  Yona said that it was a nice sized portion, not miniscule like the Quarter Pounder. Even so she said that it was not so large that it was too hard to handle or over-filling. She said that it was very juicy and decently flavorful, so she didn't need a lot of toppings or added accouterments. That said she didn't think that it was a showstopper. It didn't have any unique qualities that stood out to her or that made it significantly different from other burgers. It was just a good, classic burger.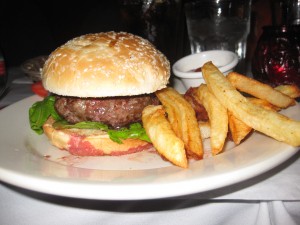 A bun should never be this soggy upon arrival at the table.
Tzipora said that her burger was good, but not great.  She also said that it was very juicy, but felt that it could have had a little more flavor.  Her bun got soggy very quickly, unlike her fries, which were crispy and delicious.
Orlee ordered the 10 ounce burger with cheese.  She said that it had a good flavor, but that the cheese did not add anything to the burger. The cheese continually fell off the burger, thereby making it harder to eat. The bun wasn't toasted and was incredibly soggy.  She and Tzipora were not happy campers.
So for the Burgermeisters' kosher friends, the opinion was split.  The Burgermeisters themselves told a different tale.
Matt was out and out disappointed with his burger, saying it lacked flavor completely and that the price was outrageous.  In fact, he didn't even bring enough cash and Brad had to float him a few dollars.  Like Orlee and Tzipora, his bun experience was abysmal, which for Matt is a major no-no.  He did like his fries, however.
Brad has eaten burgers in kosher cafeterias before, and as a Burgermeister he never had much nice to say about them.  He felt that his 10 ounce burger from Talia's was just a supersized version of those, almost identical in flavor.  Like Alana, Brad also ordered his burger Cajun style but didn't receive it that way.  His burger was very juicy, but destroyed his bun and stained his pants.  He did like the fries, especially after drowning them in the generous supply of mayonnaise given to the table.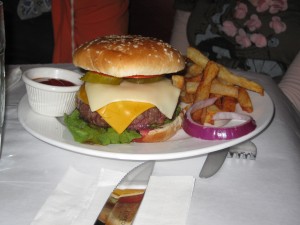 Talia's signature burger: the 10 Ounce with Cheese.
The Verdict: Some of the Kosher Meisters were satisfied with their meals.  As folks who typically don't make their own burgers and almost never eat them out at restaurants, the flavor in Talia's burgers was sufficient.  Some however, had eaten delicious kosher burgers before and were nonplussed by this meal. The bright side of their frustration was that they gave the Burgermeisters plenty of suggestions for the next kosher edition of Burger Weekly.  For all of you Little Meisters who don't keep kosher, Talia's is a big no-no.  The burgers are sub-par, the service is slow and the prices are outrageous. If you find yourself at Talia's, just order a side of fries.
Two disclaimers about the Quarter Pounder: The patty is incredibly small, so don't expect anything larger than you'd get at McDonald's.  Also, because it is so small they won't cook it to order, and the patty comes relatively well done.
Talia's is located at 668 Amsterdam Avenue between 92nd & 93rd Street.