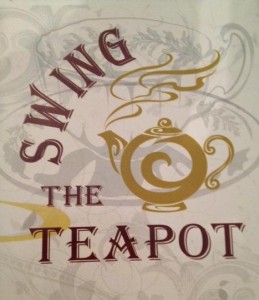 A Symbol of Continuity
Burgers Ordered: Christopher – Tavern Burger
The Experience: Swing the Teapot is a quaint little Irish restaurant located in Floral Park, New York. The décor is absolutely fantastic; beautiful paintings hang on the walls, there is a gorgeous bar, and the tables and chairs are all different shapes and sizes. It is a lovely place, especially for breakfast or lunch. The waitresses are always friendly and greet you with a smile. They have a menu stocked with traditional Irish fair as well as wraps, Paninis, burgers, sandwiches, and salads. There is also a full breakfast menu.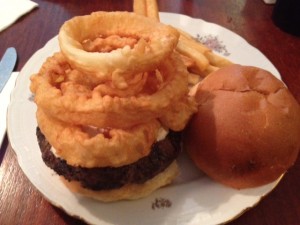 Christopher and his family are frequent visitors. If there is one downside to Swing the Teapot, it's the wait times. This is not a place to go if you do not have time to sit, relax, and enjoy both your meal and your company. When there is a moderate crowd you will often wait a bit for your food and when it's busy, you'll be there for a spell for sure. This is why the Fredas tend to only go for breakfast, brunch, or lunch, as dinner can be quite hectic in the Teapot.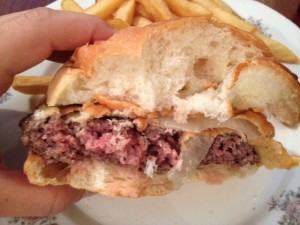 The Taste: Christopher ordered the Tavern Burger prepared medium rare. This beef burger is accompanied by creamy horseradish sauce, stacked high with fried onion rings, and served on a plain white bun with French fries. The burger was cooked to order and the fried onions were piled high! The Horseradish sauce had the perfect amount of kick and there was just the right amount of it on the burger. The onion rings were fried to perfection and not too greasy. The patty itself had a nice taste. The only real detractor was the plain white bun. Though it added nothing to the burger, it wasn't a distraction and did hold up to the weight of the patty nicely.
The Verdict: If you're in the Western Nassau County area and have some time to spare to sit, look at some beautiful paintings, and have a nice meal at a good price, this is the spot for you. The burger was great and their paninis are wonderful as well.
Swing the Teapot is located at 6 Verbena Avenue off of Tulip Avenue in Floral Park, NY.