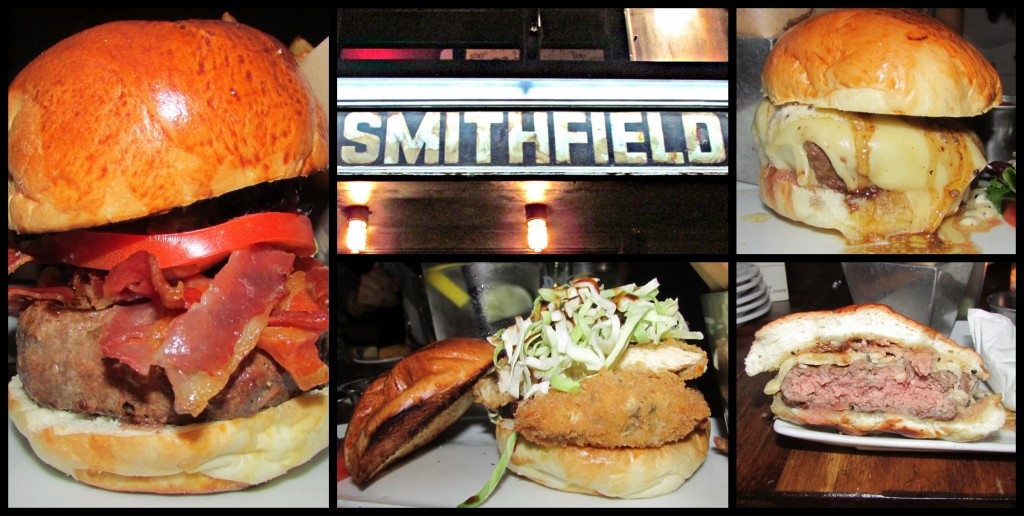 The Experience: Another stop on our Manhattan Sideways burger crawl, Smithfield claims to bring an East Village vibe to Chelsea. The Burgermeisters and Manhattan Sideways team understood this principal immediately; the space is large, welcoming, filled with drinks and food, and could easily accommodate a large, casual gathering. The wait staff was very friendly, and quickly asked the curious crew which of their diverse burgers were desired.
Burgers Ordered: The Smithfield Burger and the BLT Burger.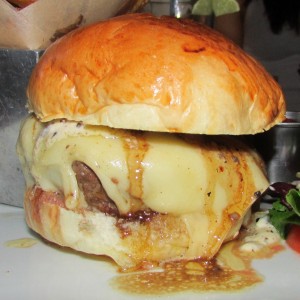 The Taste: The Smithfield Burger is an angus beef patty, topped with candied foie gras, shaved truffles, 100 year-aged balsamic reduction, and gruyere cheese. It is a burger that tastes far more ambitious than it does fancy. The foie gras is quite sweet, really taking over the taste of the entire burger. The grillmasters at Smithfield must have known this would happen, as the rest of the toppings and the patty itself were less flavorful, allowing the foie gras to take center stage. The bun was very soft and the texture of the meat was also enjoyable. The BLT Burger was predictably topped with lettuce, tomato, and maple-glazed bacon. The bacon was a huge hit, as were the hand cut fries that came with both burgers.
The Verdict: The interesting and incredibly diverse burgers at Smithfield will have you coming back for more. The Burgermeisters are intensely curious about the Surf & Turf Burger, the only burger they know of topped with sweet Maine lobster.
The Smithfield is located at 215 West 28th Street in Manhattan, New York.