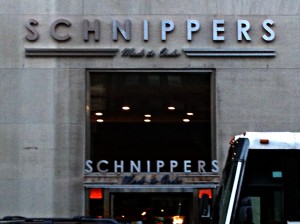 We have a new cheap-burger champion!
Burgers Ordered: Two hamburgers and two cheeseburgers for two people.
The Experience: There's nothing like a GREAT deal on a hamburger meals, and there are really no better deals than $1 burgers and beers.  It came to the Burgermeisters' attention early Tuesday morning that the Flatiron location of Schnipper's Quality Kitchen would be serving dollar burgers and beers for one day only, and only in the East Side restaurant.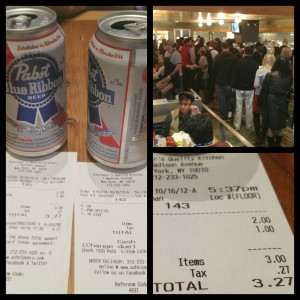 Burgermeisters Brad and Andrea arrived to find Schnipper's more than a little bit crowded.  They wanted to wait for latecomer Matt, but when the line threatened to spill onto the sidewalk they had to relent and enter it.  Brad was a little upset that when trying to add bacon, which typically costs $1 at Schnipper's, he was told that adding bacon would negate the day's special price.  Wanting to take full advantage of the deal, he ordered two burgers sans bacon instead.  If Brad thought he was upset, he should have waited to see the look on Matt's face when he arrived at the end of a line so long that it destroyed his desire to wait for a hamburger.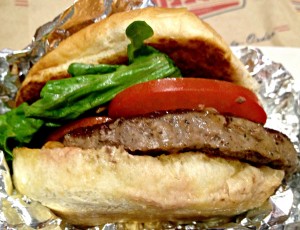 The Taste: Not expecting terribly much from a place that was willing to sell its wares for a dollar to get droves of customers to come in, Brad and Andrea were shocked at how delicious the $1 hamburgers and cheeseburgers were.  The thin patties were incredibly flavorful, pink, and juicy, despite not being cooked to any customer-ordered temperature. The toasted and buttered bun activated any taste bud that the patty missed, creating a serious flavor explosion.  The American cheese used to make the cheeseburgers was not as well received, but given that it didn't add to the $1 charge it was hard for the Burgermeisters to complain about.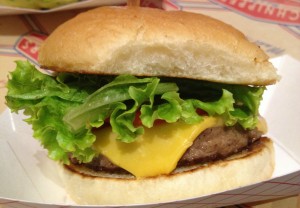 The Verdict: On a typical day, burgers at Schnipper's run between $5-$6, making this Burger Weekly's new champion burger joint for under $10.  Skip the line at the nearby Shake Shack, because Schnipper's is giving away less greasy but equally juicy and more flavorful burgers for the same price.
Schnipper's Quality Kitchen is located at 23 East 23rd Street between Madison Avenue and Park Avenue.
Schnipper's is also located at 620 8th Avenue at 41st Street.