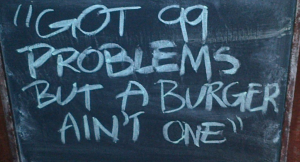 8 months of burgers, 28 years of life.
The Experience: In the growing tradition of the Burgermeister summer party at SideBAR, the Burgermeisters knew that for Brad's birthday there had to be a big Burger Adventure.  Of all the places on Burger Weekly's upcoming adventures list, Brad decided that Royale was most suited to fit the needs of this occasion.
He could not have been more correct.  The Burgermeisters arrived at 2 pm on Brad's birthday and stayed until almost midnight.  Of the rotating group of Guest Burgermeisters, 17 ordered burgers.  In all 19 burgers were consumed when Brad and Matt decided they had to eat both lunch AND dinner at Royale.  The day was filled with goofy smiles, Pulp Fiction dreams-come-true, bacon-based drinks, and Colt Cabana autographed postcards.
To continue to describe the Burger Adventure would be silly when there is video evidence of the experience…
The Verdict: As for Royale's burgers, everyone agreed they were satisfying.  They may not be the most memorable, but that could easily be because of the amount of alcohol consumed.  Royale allows you to experiment with toppings, brings you ample drinks, lets you stay for hours and keeps the fun flowing.  The heated garden in the back is a treat for a party no matter the season.  The Burgermeisters highly recommend spending a Saturday at Royale.
Royale is located at 159 Avenue C at 10th Street.