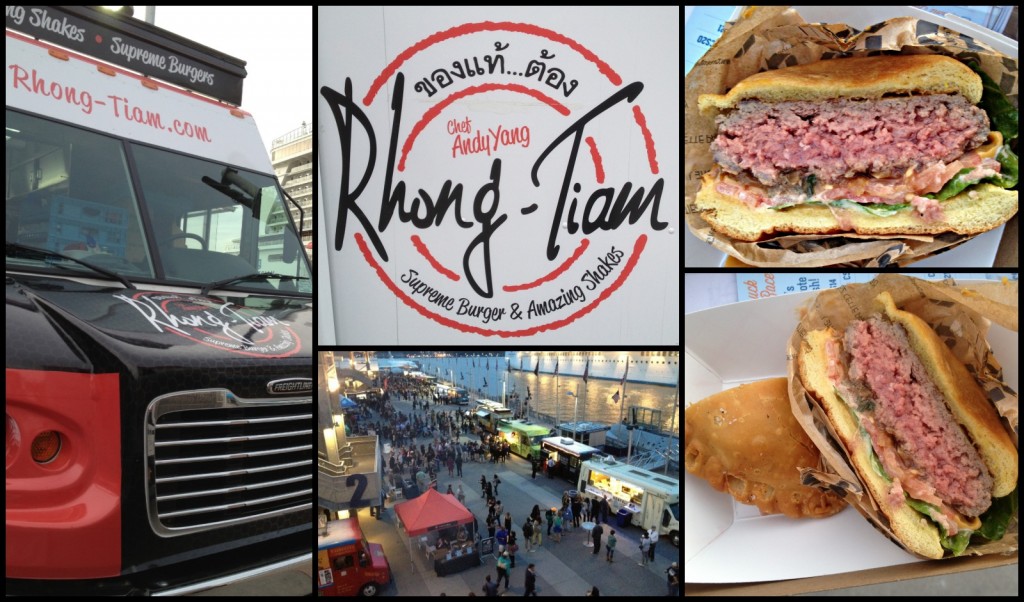 The Experience: The best thing about food events is that, while you may go to try out places you've heard of, you also get to sample food from joints that have never crossed your mind. That was the case at the Choice Streets Food Truck Event, as the Burgermeisters attended not thinking they'd come upon any new burger discoveries.
Rhong-Tiam, Andy Yang's popular Thai restaurant, has been no stranger to mobile food dispensing. Their now-defunct Thai cart was a winner in Chelsea. Now Yang has rolled out a small selection of food trucks serving New York City with diverse Thai-inspired food. His new Supreme Burger Truck looked to attract new fans at this event, so the Burgermeisters gave it a whirl.
Burger Ordered: The Yang Burger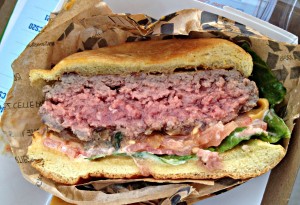 The Taste: The Basic was listed as a Prime Angus Beef Burger with American cheese, lettuce, and tomato. But it was the unlisted ingredients, the sauteed onions and sriracha aioli, that made this burger memorable. Cooked on the border between rare and medium rare, some might be made nervous by the color of the patty. The Burgermeisters want to assure you that you will love the tender texture and rich taste, and no post-meal stomach aches will occur. The potato bun was a lovely compliment to the meat and condiments.
This was a much less Thai-spice heavy version of a Thai burger than the one served at Ngam, but Rhong-Tiam hinted that "The Korean Burger," a burger with kimchi, pickled daikon, wakame, and Thai tomago, will be served in the future. The Burgermeisters prefer the basic Yang Burger, because while it's fun to put a spin on the classic hamburger, the taste can be very hit-or-miss when getting wild with the variations.
The Verdict: If you see this Supreme Burger Truck on the street, give it a whirl. The burgers are seriously tasty, and even the empanadas are worth trying. And if you get the chance, hit up Choice Streets next year.