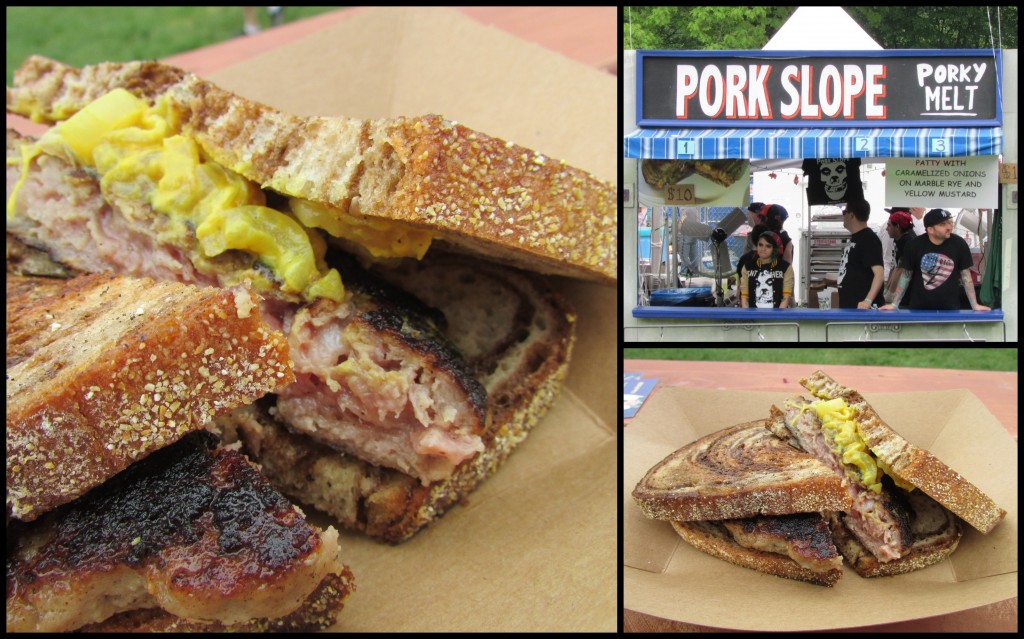 The Experience: The folks behind the Great Googa Mooga food and music festival just can't seem to catch a break. Last year their inaugural event was plagued by extreme heat and poor planning that resulted in a terrible registration process, long lines, and a lack of cell service for Instagram-loving attendees. This year the registration process went much more smoothly, the lines were manageable, and the cell service was much improved. Sadly, the final day of the festival was rained out, leaving attendees upset at missing out on the fun, and vendors in the lurch financially.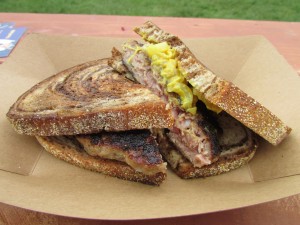 Luckily, the Burgermeisters attended on Saturday, and before the drizzly rain forced them back to Manhattan, they ate hamburgers from a whopping FOUR food vendors. One of those vendors was Pork Slope, an import from Park Slope, Brooklyn (duh). Pork Slope does serve a (very good by reputation) cheeseburger, but it was the Porky Melt, a pork-filled patty melt, that they brought to Googa Mooga. Burger Weekly has already set a couple of precedents for reviewing patty melts, so the Burgermeisters felt it would be appropriate to give it a try.
Burger Ordered: The Porky Melt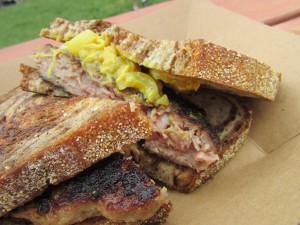 The Taste: The succulent pork inside the Porky Melt was exquisite. It was complimented perfectly by the deliciously buttered marble rye. The mustard tasted fantastic and gave the melt a wonderful kick. The Burgermeisters had this meal essentially for breakfast, and were very pleased that they began their day that way.
The Verdict: Pork Slope whet the Burgermeisters' appetites in such a way that they know they'll have to go to the Park Slope location to try that cheeseburger. This was a big win.
Pork Slope is located at 247 5th Avenue in Brooklyn, New York.