Meat in Meat Packing District.
Burgers Ordered: Brad & Matt – The Superman Burger; Simon & Andrea – Pop Burgers
The Experience:
Sometimes the Burgermeisters put out feelers before a Burger Adventure. This time around they asked a few friends what they thought of Pop Burger. The response was lukewarm to say the least, so there was a decent amount of dread heading into the meal, especially after the middling experience at
brgr
the week before. Thankfully, their doubts proved unwarranted.
Pop Burger has a split personality. On one side of the establishment is a burger counter, serving up grilled and fried food as well as soft drinks and beer. There are no frills at the counter. On the other side is a more fanciful lounge, with more comfortable seating and an altered menu. Because they are in the middle of their fast casual marathon, the Burgermeisters opted for the counter.
Getting up close and personal with Pop Burgers.
The Taste:
Guest Burgermeisters
Andrea
and
Simon
both got the signature Pop Burgers (a serving of two sliders), while Brad and Matt went for the much larger Superman Burger.
Andrea said that she was surprised that while the slider looked like it was more well done than she usually likes on the outside, it was nice and juicy on the inside. This can be tough to pull off with sliders. She'd come into the meal extremely hungry and was not satisfied with just the two sliders, even taking into account her side of french fries. She thought it would behoove Pop Burger to have a three slider option for the super hungry. She felt that if your signature item is going to be sliders, it's fair to offer it in different quantities so as to encourage people of all hunger levels to try it. All in all though, she found the Pop Burgers to be delicious, and would absolutely go there again.
Simon said that the sliders were pretty good. He found them to be a little sweet, which was a nice change from the occasionally dry and crumbly burgers he'd ordered recently. Like Andrea, his biggest complaint was that because they were sliders there wasn't enough burger to appease his Burgermeister-sized appetite. For the money, he was upset that he left hungry, but was happy with the taste he'd experienced while at Pop Burger.
Matt was thrilled with his Superman Burger. He said that it was the most genuine burger he'd had in weeks. Pop Burger doesn't cook its burgers to order, but Matt said that the Superman proved that it doesn't always have to be cooked medium rare to be juicy. He said that the toppings were awesome on top of a good sized patty. The bun wins his "bomb" award. He went as far as to say that Pop Burger might be the king of my mountain when it comes to fast casual burgers in NYC.
Brad was also pleasantly surprised by the Superman. He especially loved the fried pickle wedges that adorned the burger. Though the sheer amount of toppings on the burger gave it a haphazard appearance, the taste could not be denied. The Superman was incredibly filling and tasted wonderful on the way to his belly.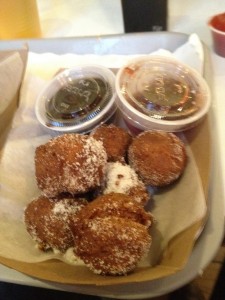 A strange choice for a side order.
In true Burger Weekly fashion, all four Burgermeisters ordered different sides. Brad ordered the tater tots, which were as good as any he'd ever had in a restaurant (barring perhaps the outstanding ones at Ditch Plains). Matt had plenty of great things to say about his onion rings. Andrea enjoyed her french fries, but was annoyed because she'd actually ordered cheese fries and was unimpressed with the side of cheese sauce trying to pass itself off as the genuine article. Simon took a completely different path and ordered the donuts. They came served with a side of chocolate sauce. He said that neither the donuts or the chocolate sauce were worth a dime.
The Verdict: Every beef patty being delicious, Pop Burger gets the Burger Weekly stamp of approval. If you're in the mood for a quick bite, get the Pop Burgers. If you're feelings hunger pangs, get the Superman Burger. Either way you'll be happy to stopped here for a bite.
Pop Burger is located at 58-60 9th Avenue, between 14th Street and 15th Street.