Burgers Ordered: Brad, Matt & Michael: The Cadillac.
The Experience: Traffic in New York City comes to a grinding halt whenever there's an immediate change in the weather. On the night of the Burgermeisters' excursion to P.J. Clarke's, it was slightly colder than usual, with a little rain and a few gusts of wind. As such, guest Burgermeister Michael (making his return for the first time since the Stumble Inn stuffed burger spectacular) was quite late getting to the restaurant. Matt decided to regale Brad with a story about the last time he had dinner at P.J. Clarke's…

[youtube:watch?v=Zfeqegdz19M&feature=player_profilepage]
Michael showed up and after a short wait the Burgermeisters were seated downstairs. The waiter was one of the friendliest we've had on any burger adventure. He ran down the specials, which sounded delicious, and threw in as an afterthought that the burgers were great. Brad took a quick look at the menu and then had a little motivational speech for his fellow Burgermeisters…
Presentation: Because there was so little variety in the burgers ordered, the Burgermeisters all got different sides. Brad ordered regular fries, Matt sweet potato fries and Michael shoestring onions. After a long week back in their workday lives, everyone ordered a couple of beers too. Brad took advantage of a conversation about Yankee season tickets between Michael and Matt by stealing as many fries and onion rings as he could.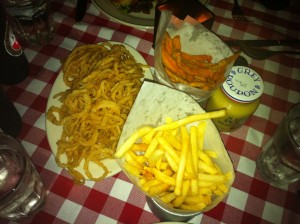 Taste: Now the Burgermeisters aren't sure if it's because they said they were Burgermeisters or because P.J. Clarke's really knows how to cook a burger well, but these burgers came out cooked like no place the Burgermeisters have been to before. It wasn't a complete surprise that the burgers seemed so perfect; after all, the burger is supposedly named as it is because Nat King Cole proclaimed it the Cadillac of hamburgers.
Michael and Brad got their burgers with smothered onions, while Matt's came with sauteed mushrooms. All of the burgers came with a slice of onion underneath the bottom bun. Brad said he wish he'd kept his there the whole time because the bottom bun eventually gave way to the juice from the burger. Alas, he was more worried about his breath than he was about burger structural integrity.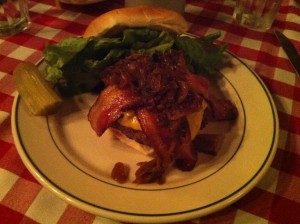 Everyone agreed that the bacon tasted great. Brad suggested that it might be the best bacon in Burger Weekly history. Matt said it was good, but that the bacon at Genesis was in the running as well.
Michael said his burger oozed with flavor. Indeed, all the Burgermeisters were left messy because it also oozed with burger juice. So much so that Michael left the restaurant with a badge of honor. Michael actually finished his burger before Brad and Matt. The full time Burgermeisters were a little ashamed of themselves. However, they left with clean shirts, so it might have been worth it.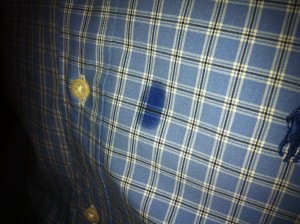 The Verdict: When the bill came the Burgermeisters realized that the sides were extra. In fact, they realized that everything was extra. Matt joked that he wasn't sure whether the red meat or the bill would give him a heart attack first. In the end however, the Burgermeisters happily parted with their money. You probably will too after eating a burger cooked as well as this.
P.J. Clarke's is located at 44 West 63rd Street between Broadway and 9th Avenue.