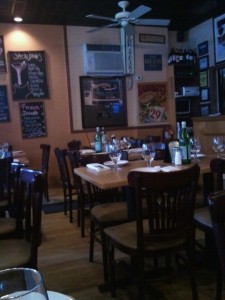 A quiet evening with an amazing burger.
Burgers Ordered: Matt – Wisconsin Burger; Brad – Sicilian Burger; Jessie – VIP Burger
The Experience: As educators, the Burgermeisters have different jobs in the summer and during the school year. They actually met each other at their summer job in 2010. Matt is jovial almost all the time during the summer, but sometimes Brad mean mugs it so that people he supervises don't try to take advantage of him.

Jessie and Erica came to work with the Burgermeisters in the summer of 2011, right around the time that Burger Weekly was founded. They didn't know Brad well and thought that his surly demeanor was more than just an act put on to make the young'ins fear him.
At the SideBAR burger party celebrating the creation of BurgerWeekly.com (a move from our original home on a WordPress site) and the launch of the Burger Weekly Facebook page, Jessie and Erica made a challenge to Brad. They bet him that he could not stay positive and smiling for an entire day at work. If Brad lost, he would have to buy Erica a veggie burger. Brad could think of no greater punishment. If he won Jessie would buy him a hamburger at a restaurant of his choosing.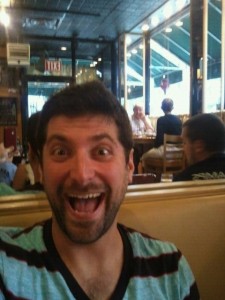 Brad loves winning bets!
The bet was a cake walk and Brad won by a wide margin. He thought of torturing Jessie by making her take him to Minetta Tavern or ABC Kitchen or the like for a near-thirty dollar burger. In the end he showed mercy and the Burgermeisters brought Jessie to Ottomanelli's to buy Brad one of their sizzling steak burgers.
Presentation: Ottomanelli is a New York institution with many installments all over the city. Many look different from one another, some set up as a deli counter, others in a more traditional restaurant style. Ottomanelli NY Grill on 93rd and Lexington is one such traditional looking restaurant, and on this night the Burgermeisters were the only ones in the place.
All three burgers were ordered medium rare. All came with uniquely seasoned and incredibly delicious waffle fries and a trio of new dill pickle slices. All three burgers came cooked to order, putting smiles on the Burgermeisters faces. The burgers were stacked rather high and had to be cut in half. The buns were fresh and firm, making the cutting difficult but rewarding.
Taste: Jessie's VIP burger, which came with mushrooms, grilled onions and provolone cheese was, in her words, "the bomb." The Burgermeisters try not to use that much '90s slang in their vocabulary, but Jessie isn't a full-time Burgermeister. She thought the bun was fantastic, that the mushrooms tasted great, but that the onions could have been slightly more golden. The burger was overflowing with cheese, which she enjoyed. She gushed over the fries, repeatedly.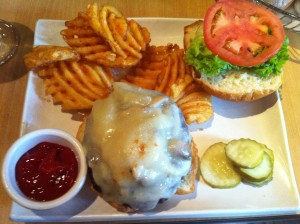 Matt's Wisoncin Burger came with cheddar and smoked bacon. Matt is often hesitant to get cheddar on a burger because it doesn't always melt well, but here it was perfect. He loved the bacon (he's becoming a real bacon expert) and made mention of how much he enjoyed the bun. He too thought the fries were great, and liked that there weren't so many that he felt disgusting after impulsively eating all of them.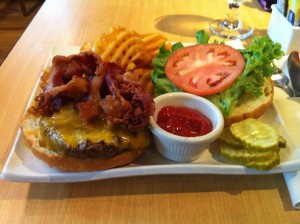 Brad's Sicilian had all the ingredients he wanted for a tasty burger. He loves mozzarella, red peppers (a rare vegetable that he enjoys), pesto and pickles. He's ordered this type of burger before (some restaurants call it the Sicilian, some call it the Italian), and hoped that Ottamanelli's reputation for good burgers would make this one of the best of its ilk. He said the patty was delicious, absolutely satisfying. The mozzarella was fresh and the pesto topped the burger very well. He loved that the waiter offered to bring him mayonnaise and used it liberally on his fries. He hoped that the heat from the patty would warm the peppers and cheese, but unfortunately for him by the time he was done eating the toppings had actually cooled the patty. Matt told him he should have expected that.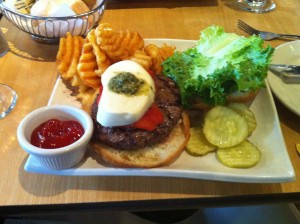 The Verdict: This place has a reputation for good burgers for a reason. They are grilled with expert precision. The various topping combinations are delicious and make sense together. The atmosphere was quiet, so the service was quick. The Burgermeisters were there early on a Thursday evening, so if you're looking for a good burger without a lot of hassle, head over to the Upper East Side for the sizzling steakburger.
Ottomanelli New York Grill is located at 1424 Lexington Avenue on the corner of 93rd Street.