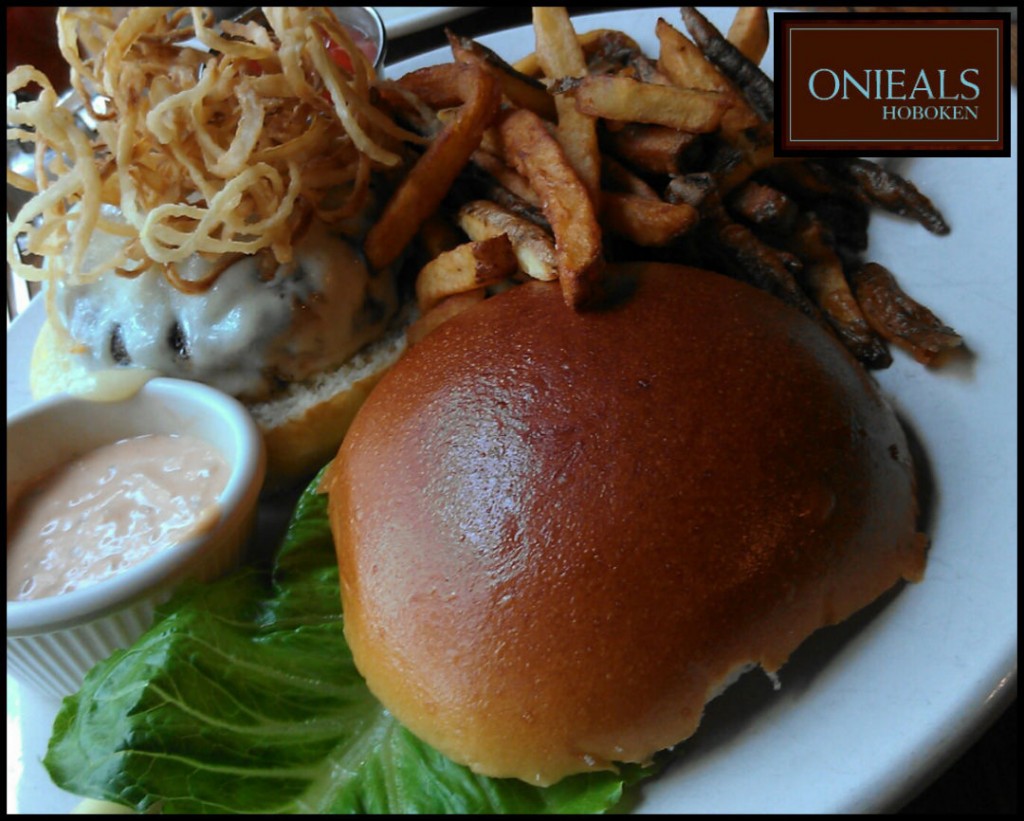 The Experience: Hoboken, New Jersey has no shortage of brunch options. Onieals has always been one of my go to bar/restaurants for that purpose. They consistently serve juicy burgers and very tasty Bloody Marys. Their impressive Burger Menu (12 burger choices on this visit) and Drink Menu (eight Bloody Mary options not including a make-your-own) make it difficult to make a decision. That is why, on this particular occasion, I was torn between the Famous Burger, the All-American, and the Ragin' Cajun. After trying to negotiate with my friend to order different burgers and share them, we both ultimately went with the Ragin' Cajun.
Burger Ordered: The Ragin' Cajun
The Taste: The Ragin' Cajun is a Cajun spiced burger with Jack cheese, crispy onions, and remoulade dressing on the side. All burgers are served with lettuce, tomato, Bermuda onion, and a side of fries. Upon my plate's arrival, the first thing I noticed was the picture-perfect bun that you would expect to see in a print advertisement. The glossy bun held its own. The burger itself was a little hidden because of the pile of crispy onions covering it. As expected, the burger was juicy and tasty. The tomato, had I decided to stack it on the burger, was sliced right and shouldn't have caused any sogginess. The remoulade on the side added a slight kick that the Cajun seasoning and the Jack cheese sadly lacked. And while it wasn't the best serving of fries I have ever had, cleaning my plate turned out to be a wise decision.
The Verdict: Even if it didn't taste like the Cajun burger that I was expecting, the burger itself – seasoned or not – was a winner. The Bloody Mary that I ordered provided all the kick I needed.
Onieals is located at 343 Park Avenue in Hoboken, New Jersey.