The Experience: O'Callaghan's is an Irish Pub with inviting and friendly bartenders and wait staff. We had great conversations about sports, food, and beer in the relaxing environment one has come to expect from an Irish Pub. Our server, Marty, was a delight and has one of the best laughs around.
Burger Ordered: The Blackened Cheeseburger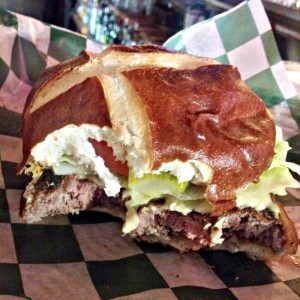 The Taste: The burger tasted simply fantastic. The blackened seasoning gives it a kick, but it's not overwhelming. It's enough to add flavor but in no way masks the taste of the beef which was cooked to perfection. The bun is a pretzel bun, which may seem passé these days, but it's used more appropriately then most burger places that just follow the trend. The combination of a larger patty, great seasoning, perfectly melted pepper jack cheese, and the juices of the meat are absorbed into the bun and made a perfect combination of flavor and functionality. The lettuce and tomato are fresh and everything stays in the sandwich, allowing for the perfect ingredient to bite ratio without falling all over the place. No mess!
The Verdict: For me, the Blackened Cheeseburger at O'Callaghan's is in the top 5 in Chicago. It's consistently good and the impressive beer list allows for a variety of great pairings. Definitely worth the visit for burger lovers.
O'Callaghan's Pub is located in 29 West Hubbard Street Chicago.