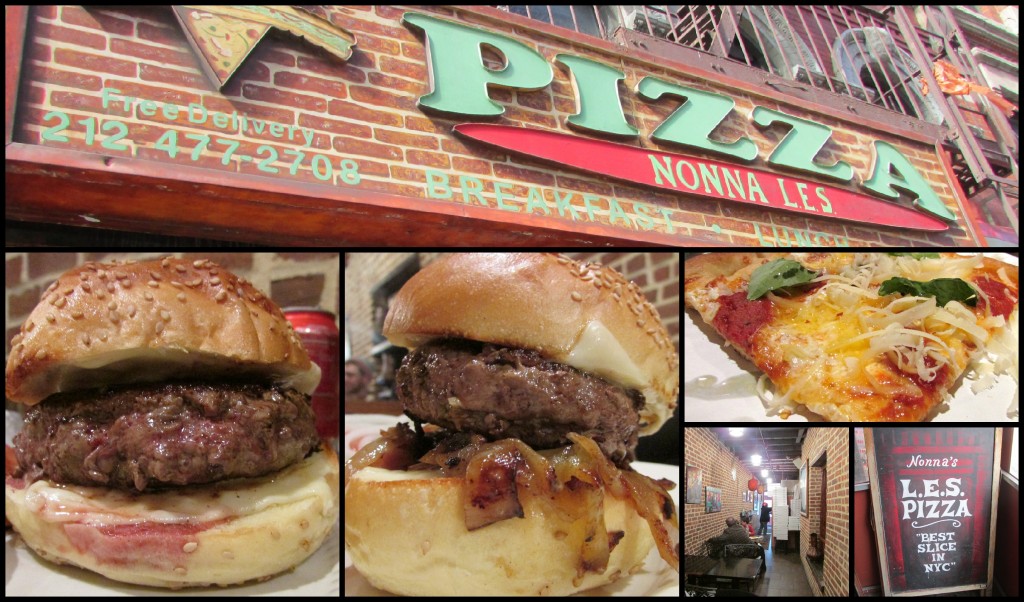 The Experience: Last week we had our Lower East Side Burger Adventure at Beauty & Essex. This week we visited a Lower East Side restaurant on the opposite end of the eatery spectrum. Nonna's L.E.S. Pizzeria is touted by many LES natives as the best slice in the city. The small pizzeria also boasts an extensive hamburger menu (called Nonna's Burger Madness) that also has some in the neighborhood buzzing. The specialty burgers at Nonna's are named after the surrounding streets, which the Burgermeisters found cute. The staff is incredibly friendly and the space is small but very comfortable. Nonna's is open until midnight during the week, and until 4 a.m. on the weekend, so the Burgermeisters were worried that their sober Sunday adventure might be disappointing. In the end, the results were mixed.
Burgers Ordered: The Clinton; the Cheeseburger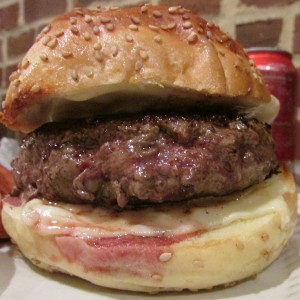 The Taste: Most of the Burgermeisters played it safe with the cheeseburger, and found varying degrees of satisfaction from their choices. Only one cheeseburger was requested at a medium rare temperature. The (incredibly friendly and helpful) pizza and burger slingers at Nonna's took this request very seriously, and the burger came a little too pink and mushy for the Burgermeister's comfort. The burger was cooked a little longer, but this Burgermeister could not find much pleasure in his meal, saying that it was bland. Another Burgermeister's cheeseburger came cooked medium, and was likened to the (rare) tasty arena hamburger.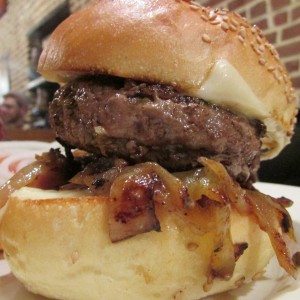 The Clinton was a story unto itself; a bacon cheeseburger with American cheese and caramelized onions. This burger was enjoyed more than the others. The meat was found to be satisfactory and plentiful, the onions and bacon adding a nice salty flavor, and the cheese being a decent subtle compliment to the meal. The only downside, which was a negative for every Burgermeister at Nonna's, was the bun. A little dry and far too big for the rest of the burger, the bun made every bite a bit of a strain. Sometimes, less is more.
The Verdict: A change of bun would do wonders for the burgers at Nonna's. It wouldn't make it the best burger in downtown Manhattan, but at the low price point they offer it would make it hard to resist a hangover burger on a Sunday.
Nonna's LES Pizzeria is located at 105 Clinton Street at Delancey Street in Manhattan, NY.