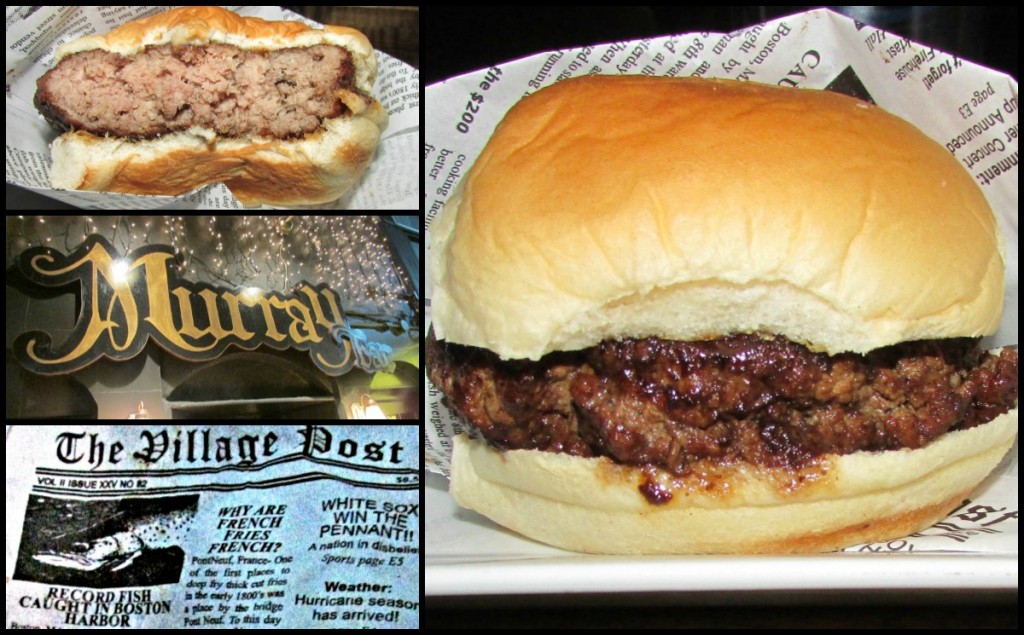 The Experience: Burger Weekly was lucky enough to receive an invitation from the illustrious Rev of Burger Conquest  to the Hoboken Chapter of the Burger Club, a group of hardcore burger enthusiasts that meets a few times a year to deconstruct some of the New York area's best hamburgers. Along with the excellent crew that made up the club's regular membership, the burger-lovers from 50 Burgers or Bust were also in attendance. This was truly an elite group of burger appreciators, so the host of the night's meeting would have to bring the goods.
Murray Bar looks as if it took its decorating tips from Bam Margera. It is dark, eclectic, and just this side of Gothic. The Burger Club was set in the back of the restaurant on benches, the perfect set-up for a burger party. The club was waited on by the incredibly attentive staff.  Chef Will Gauger was eager to serve his dirty burgers, and the Burger Club was eager to devour them.
Burger Ordered: The Dirty Burger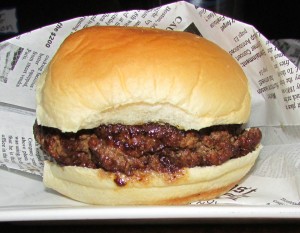 The Taste: Dirty style is a method of seasoning that emphasizes "heat & sweet." The Dirty Burger at Murray Bar comes topped with nothing but Dirty seasoning and is cooked medium. Murray Bar patrons will also get Dirty Fries and Dirty Sauce on the side, but the Burger Club focused solely on the burger.
The Burgermeister's burger was flavorful and moist. The bun clung to the lean patty, but didn't allow grease on the Burgermeister's fingers. Gauger admitted that the Dirty seasoning consisted of salt, pepper, garlic aioli, and honey, along with a host of other spices. The Club decided that cinnamon had to be one of those ingredients, as it seemed to factor heavily into the flavor.
The Club was split, and it appeared the size of the group created a problem for the chef, as some burgers came out more dry than others. Fortunately for Gauger and Murray Bar, at Burger Weekly the Burgermeister gets the last say, and he quite enjoyed his juicy Dirty Burger.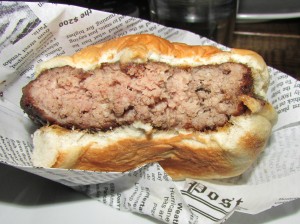 The Verdict: Though the Burger Club was split, the Burgermeister was fortunate in that his Dirty Burger exemplified the high potential that the Dirty Burger can achieve. A small group of Little Meisters can likely expect the same.
To see the extreme side of fun at Murray Bar, check out this photo. Warning: it is not for the weak of heart or stomach.
Murray Bar is located at 58 East 34th Street in Manhattan, New York.