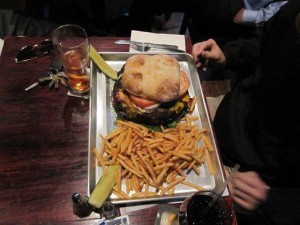 Burgers Ordered: Christopher – The 3 Pound Murphy Burger
This all started out as an idea in my buddy Chris Brady's head. After being friends for over thirteen years  my good friend has seen me eat an obscene amount of food, be it at restaurants, family parties, or UFC viewing parties.  One day when passing a neighborhood pub he saw a sign advertising a food challenge. Chris and I had been big fans of Man vs. Food and he thought it would be cool if I attempted a challenge.  He asked if I was interested and I said that I was. He made the preliminary phone call to field out the details of the challenge and to let them know that we would be coming by.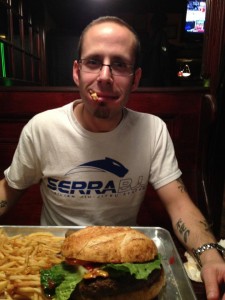 I have to admit, at first, I was thinking that it would be no problem, I had smashed one pound burgers before, eaten the fries, and been totally fine. I also had eaten tremendous amounts of food at said parties and get-togethers and have always had a big appetite, particularly if I eat sparingly throughout the day. However, after seeing pictures of this three pound monster, I was beginning to have some doubts, especially when noting that I had to also eat two pounds of fries! Nonetheless, I still thought I had a really good chance!
Murphy's is your standard, Long Island neighborhood pub with lots of wood, tables and booths. Our waitress was dressed casually and very friendly.  She explained the rules and brought out the monstrosity that is the three pound Murphy Burger. Its three pounds of beef, Irish bacon, cheddar cheese, lettuce, and tomato on a huge roll.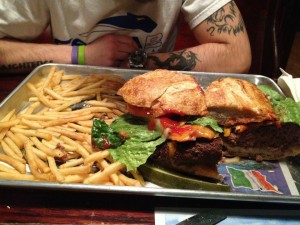 The Taste: First off, the bun: this thing was huge and disappointingly kind of hard. It was definitely a detraction. I could see wanting it to be sturdy to hold up to the massive amount of meat, but this thing was dry and crusty. The burger itself was flavorful and cooked medium rare as per my request.  I had never had Irish bacon before and don't plan to again.  This stuff is kind of a cross between Canadian bacon and ham, not too flavorful. I didn't really dig it. Overall, I liked the taste of the burger though.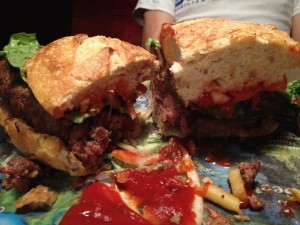 The Verdict: I know, I know, how did I do? Well, I plowed through the first half of the burger and most of the fires and was feeling a little full but OK. I cut the second half in half and took a big bite…Uh oh…I think I'm in trouble. My throat was feeling full. I chewed and swallowed and my buddy could see the worry on my face. I took another bite and my stomach said, "You better cut it out."  I agreed.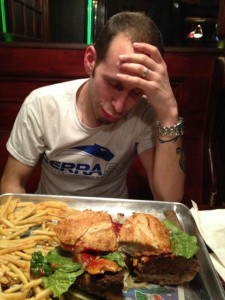 This is a very daunting challenge. If you can finish in an hour the meal is free. I don't know if I would attempt the challenge again as I really feel that the bun and the Irish bacon make it a tough go. As far as recommending Murphy's, it's a nice pub in a good neighborhood, but there really isn't anything that makes it stand out from the other bars & pubs that are in every neighborhood on the Island. However, if you want a big time burger challenge, give it a run.
Murphy's Bar & Grill is located at 234 Old Country Road in Mineola, N.Y.