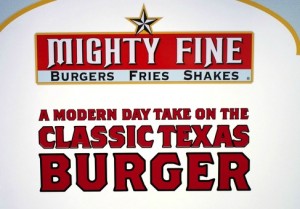 A modern day take on the classic Texas burger
Burgers Ordered:  ½ lb. Cheeseburger
The Experience:  Mighty Fine Burgers is a local Austin joint doing a modern day take on the classic Texas burger.  Ranked #37 in Texas Monthly's "The 50 Greatest Hamburgers In Texas" back in 2009, Mighty Fine (especially the one in Round Rock) never seems to disappoint.  Even when the line's backed up to (and sometimes through) the door during Sunday lunch, their well-oiled crew continues to deliver quality service til every guest is served and satisfied.  They use fresh all-natural chuck that is ground on-site and hand formed into patties.  They use Idaho potatoes for their crinkle cut fries, which by the way, they cut fresh using their fancy crinkle cut machine (they also use this machine to cut their pickles).  Mighty Fine doesn't offer you many options on their menu, but what they do have, they do well…VERY well.  It's a casual, family-friendly atmosphere with rows of long picnic tables at which diners can get their grub on.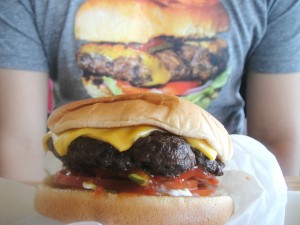 On my most recent visit, I was tempted to order off their "Locals' Menu" and try the Beast – two ½ lb. patties, 4 slices of American cheese, "red & white" (ketchup and mayo), iceberg lettuce, tomato, onion and crinkle cut pickles.  But after having visions of me suffering from the meat sweats and the impending meat coma, I came to my senses and ordered my usual ½ lb. cheeseburger.  However, rather than chomping down on their normal medium-well to well done patty, I ordered mine medium (a tip for all you who one day make it over to the great city of Austin).  For just an additional 8-10 minute wait, you can get even more succulent burger goodness…or at least, that's what I anticipated.
The Taste:  In typical Mighty Fine fashion, they seasoned the meat with just the right amount of salt and pepper and arranged the toppings perfectly so that I got a little bit of everything in each bite.  The veggies were crisp and the pickles not only added a nice crunch but brightness as well.  So how did my medium-cooked patty stack up??  Honestly, I didn't find it any different from their regular patty in terms of flavor.  I did get a bit of extra juice, though.  Okay…maybe a lot of extra juice.  I probably emptied half the napkin dispenser in a feeble attempt to keep my hands clean.  I now see the necessity of keeping the burger in its wrapper during consumption.  That magical white paper keeps all the ingredients together and in between the buns where they should be.  I don't usually entirely unwrap my burger, but I did so on this occasion in hopes of getting some better pics.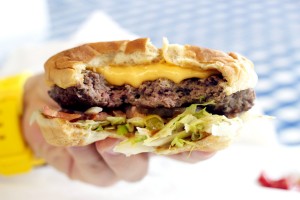 The Verdict:  Some may call this a fast food joint, but take away the speed at which your food comes out and that's where the similarities end.  A dedication to world-class service and the use of fresh ingredients are what drive this casual eatery.  Mighty Fine Burgers is the perfect place to go when you're looking for a simple burger to fill you up.  They may not use artisan breads or offer you any cheese options other than American, but their thick-formed, fresh ground chuck patties are sure to please.
Want more Austin #burgerporn? Check out the Burgervore at theburgervore.com, on Twitter, and on Facebook
 Mighty Fine Burgers is located at 201 University Oaks Blvd, Suite 1380, Round Rock TX.
(There are 3 additional locations in the Austin area.)