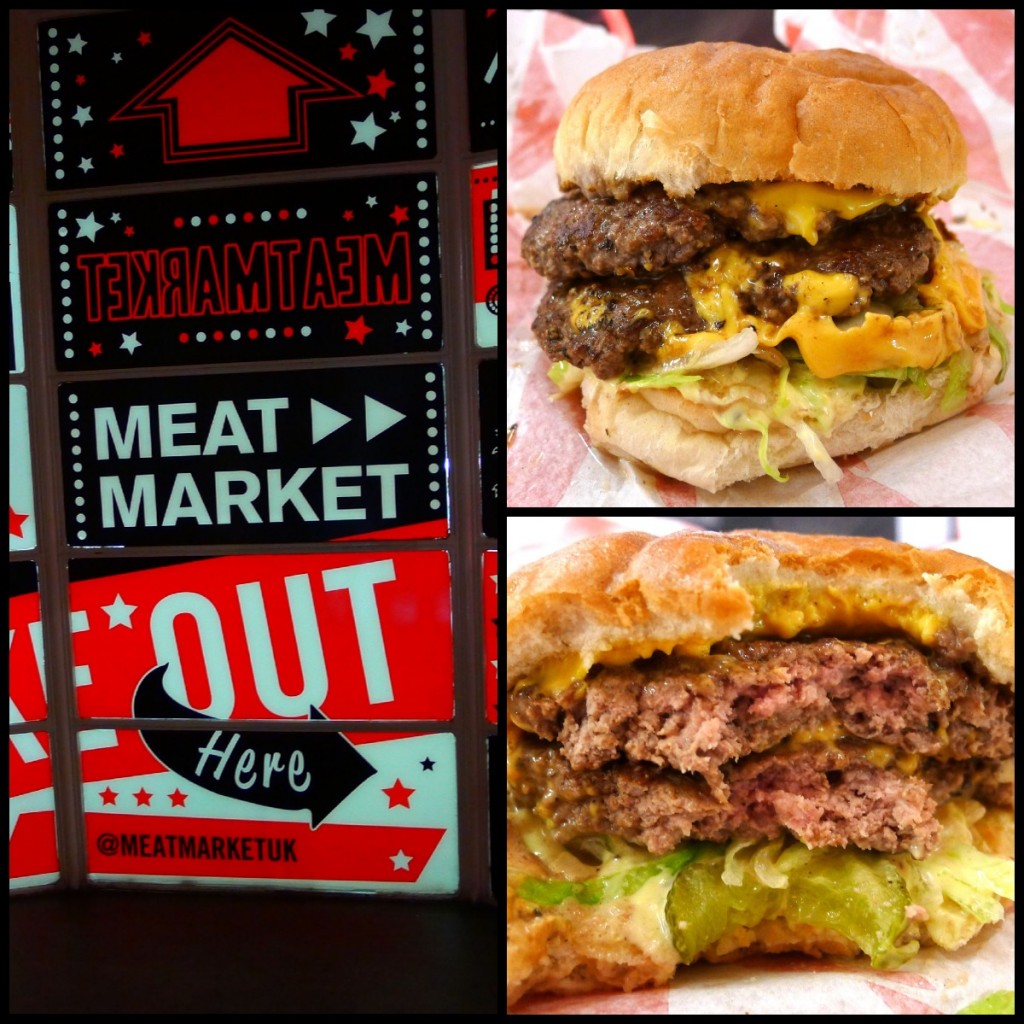 The Experience: Having started off with the humble beginnings of the now infamous Meat Wagon, owner Yianni Papoutsis crafted a reputation for the best burgers in the capital. The Meat Wagon would pop up at various locations each week and draw a crowd of eager burger enthusiasts. Fast forward a few years and the empire has now spread to 3 permanent restaurants (Meat Mission and Meat Liquor completing the trinity). Whilst the other restaurants in the chain have a reputation for their outrageous decor and pumping music, Meat Market is styled after a fast food joint. There are however, hints of the brand with the red and black graphics on the windows and various quotes hanging from the ceiling.
Burger Ordered: The Dead Hippie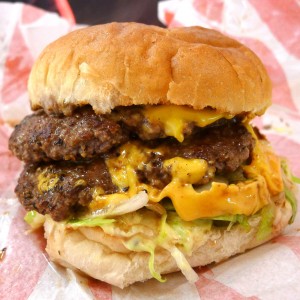 The Taste: The Dead Hippie arrived in a sourdough bun with 2 patties, cheese, lettuce, pickles and the dead hippie sauce. The bun was nothing to write home about, but was a perfectly adequate container for the patties. Saying it was nothing to write home about might be a bit unfair. It was a good bun and above average. Having two smaller patties was an interesting choice, the idea here was to differentiate this burger and follow the fast food theme of the restaurant. The Bristol Burgermeister's worry was that thinner patties would mean that the meat would be overcooked and not as moist. Thankfully there was no problem in this area as the patties were perfectly cooked medium and lovely and pink in the centre. The flavour of the meat was good, the only criticism was that the chef had been slightly over zealous with the pepper.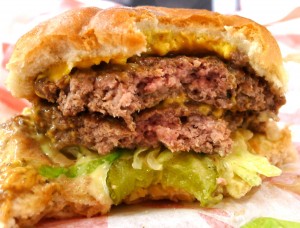 The dead hippie sauce was a bit like a take on the Big Mac sauce. It was deliciously tangy and along with the melted cheese it enveloped the burger with a gooey blanket. The fries were pretty standard skinny fries. Nothing special but not awful at the same time. The Bristol Bugermeister didn't come for the fries.
The Verdict: It was what you may call a 'dirty' burger in the sense that it was dripping with juices and sauce. That is not a criticism though, and the Bristol Burgermeister enjoyed every juicy bite.
Meat Market is located in the Jubilee Market Hall, Covent Garden, London.
 You can read more of Fabian's food reviews here. Follow him on Twitter here.