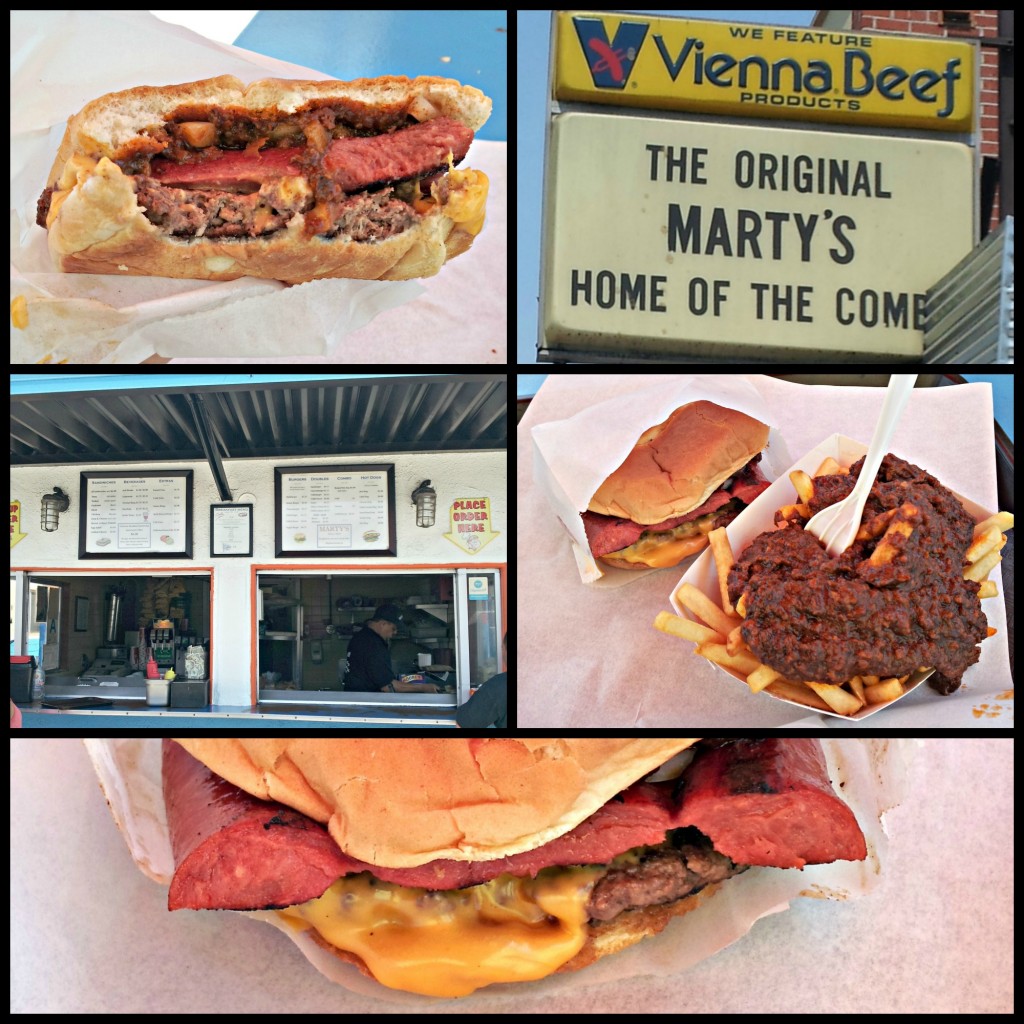 The Experience: Situated between a gas station and a fire station, Marty's is an unassuming hamburger stand that would be easy to miss if not for a lone sign advertising, "Home of the Combo." No, this is not referring to a burger/fries/drink combo that we might find at any fast food joint. Rather, Marty's version of a combo is a hamburger patty topped with a hot dog to satisfy those customers who want the best of Marty's has always had a dedicated fan base, but a recent feature on the Travel Channel's "Burger Land" has gained it some additional attention. I've been to Marty's numerous times, but after seeing this feature I realized I hadn't ventured over to Marty's in a while. Once I had the craving, I had no choice but to indulge.
Burger Ordered: Combo with chili and cheese.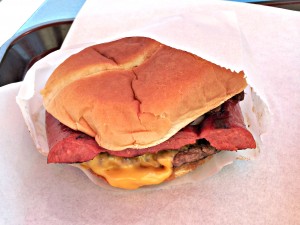 The Taste: I've ordered the Combo more times than I can count, and I have to say it is remarkably consistent. The hamburger meat is good quality and ground fresh daily, so even though the patty is on the thin side, it is nonetheless juicy and satisfying. The hot dog on top, which is butterflied into four pieces, is flavorful enough by itself to be better than the vast majority of hot dogs you'll find in L.A. Add on the cheese and a serving of their fantastic chili, and you have the magical combination of salty, savory goodness.
The Verdict: Don't be dissuaded by the minimalist décor – Marty's is a throwback hamburger stand that hits the spot every time. The price is right and the food is delicious. Whether you are in the mood for a hamburger, hot dog, or both (as I usually am), you will not be disappointed.
Marty's Hamburger Stand is located at 10558 West Pico Blvd. in Los Angeles, California.