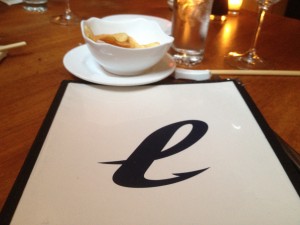 Keep it Secret. Keep it Safe.
Burgers Ordered: Brad – The Bash Burger
The Experience: What do John Mayer, Foursquare and hamburgers have in common?  Nothing, unless you're Burgermeister Brad.
Brad's first trip to Lure was a perfect storm of chaos and ridicule.  His entire family was in town for his grad school graduation.  Though the dinner at Lure was in honor of him, his family scoffed at his desire to try Lure's hamburger instead of their renowned seaborne fare.
Then John Mayer showed up and Brad's mom decided it would be hilarious to crash his dinner and give her daughter's number to the musician.  Though Mayer was polite and congratulated Brad on his educational accomplishment, the entire night had turned into something other than what Brad had predicted.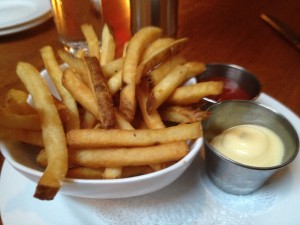 Prelude to a Secret Meal.
So he waited over a year to return, despite the nagging desire to finally get that burger.  The "Lure Style" cheeseburger with the works has been called a classed-up ode to an In-N-Out Burger.  To date Brad has never tried an In-N-Out Burger, so he was curious.  But when he checked into Lure on Foursquare, he noticed that his burger brethren from Burger Bedlam had left an important note there.
They said to ask the waiter about the off-menu "Bash Burger."  Brad was instantly intrigued, and when he asked the waitress her face lit up as she described it.  He didn't need to hear any more, and he ordered the secret burger.
eight ounces of ground chuck. Total steakhouse flavor.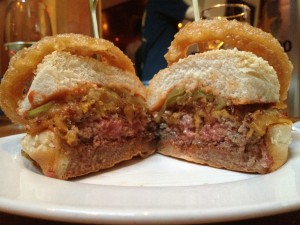 BASH!
The Taste: While the Burgermeisters don't always agree with many other burger blogs, the hyperbole given to this burger was almost entirely deserved.  The Bash Burger comes topped with a secret sauce, onion & bacon jam, American cheese and pickles.  The patty is 8 ounces of ground chuck.
The quality of the beef was outstanding.  Some of the better steaks Brad has had couldn't claim the flavor that this burger could.  The special sauce was tasty but almost clandestine in its subtlety.  The pickles and cheese were also just noticeable enough to be enjoyable.
If the burger had one flaw it was the bun.  The sesame seed potato bun held up in the face of an incredibly juicy burger, but was completely soaked in the juice before the first bite. It tasted fine but didn't add anything to the burger. Where some burgers use their bun to add another dimension of flavor, Lure's choice here is the only thing keeping the Bash Burger from challenging Black Iron Burger and Minetta Tavern for Top of NY bragging rights.
The burger was also adorned with two onion rings and accompanied by a bowl of fries.  Brad tore through the onion rings, loving their tempura taste.  The fries were also a hit, and it didn't go unnoticed that mayonnaise arrived with them, without Brad having to ask for it.
The Verdict: The second half of 2012 will have to be a whirlwind of unbelievable burgers for the Bash Burger to be absent from the Best of 2012 list.  Head to Lure and make sure to ask your waiter about this secret selection.
Lure is located at 142 Mercer Street at Prince Street.