Burgers Ordered: Brad, Matt, Simon & Richard – Landmarc Burger.
The Experience: Recently, chef and restaurateur Marc Murphy posted a picture of the Big Marc Burger on his Facebook fan page. The Burgermeisters decided that they had to try this burger at Ditch Plains, even though it wasn't on their Upcoming Adventures list. But Murphy was also the owner and chef at another restaurant, one that was on the expansive burger list. And so the Burgermeisters decided to do their first burger miniseries, starting with Murphy's traditional and eponymous Landmarc Burger and moving on to the Big Marc Burger next week.
It was difficult for Brad and Matt to recruit Burgermeisters that could commit to two weeks in a row of Burger Adventures. It seems New Yorkers are as busy and hard to wrangle as rumored. Guest Burgermeister extraordinaire Simon, making his fifth appearance on Burger Weekly, was quick to sign up for the series, as were Amital and Richard, making their Burger Weekly debuts.
The Burgermeisters were seated at a beautiful, private table, surrounded by a curtain and lit by a giant beehive. They loved how fancy it made them feel. Murphy and company must have sensed that we were Burgermeisters. Safely in our hive, we ordered up our Landmarc Burgers (though Amital went rogue and got a Chicken "Burger") and prepared for the first of two Murphy meals.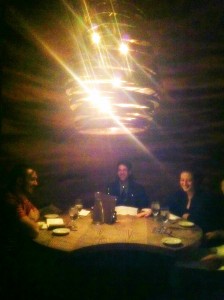 Hive Dining
The Taste: Richard took one look at his burger and remarked that it was about as standard as a burger could possibly look. Brad agreed, but noted that it looked like a burger that one would use in a television advertisement, because of its grill-marked bun, thick patty and oozing cheese. When pressed for an opinion on the burger's taste, Richard said that it was deliciously normal.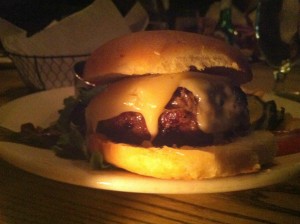 Fit for TV
Everyone agreed that the meat had an excellent, powerful flavor. Crisp on the outside, the juices flowed from the patty with every bite. The patty was thick, but not overwhelming and completely bitable.
The Burgermeisters had different experiences when it came to the cheese that topped their burgers. Brad's gruyere cheese melted perfectly. Matt's American cheese did not, which was embarrassing for him after he spent the pre-meal conversation bragging about how the cheese he'd selected would surely melt the best. Richard's cheese also gave him a bit of trouble. Simon didn't order cheese at all.
Amital's gruyere cheese melted as perfectly as Brad's, but it topped a piece of chicken. As any good Burgermeister knows…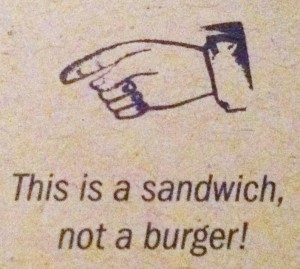 The standout ingredient was the bun. Baked fresh, it held strong for Brad, Matt and Richard's juicy burgers. Matt made a point to finish his patty before the bun so he could eat a bit of it on its own, and said that it was a completely different but equally tasty experience.
The fries were excellent, topped with parsley for a nice, unique twist. The Rabbit Food included tomato, onion, bread and butter pickles (which Matt loved and Brad hated but ate anyway) and dressed greens. The carnivores at this table devoured all of the Rabbit Food, a change of pace for some of them.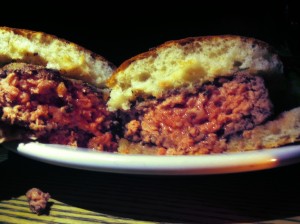 Juice Box
The meal was capped with complementary caramels, which Simon loved. Brad also had a taste and found that in moderation he might like caramels himself (he'd previously thought he only liked caramel with chocolate).
The Verdict: Ditch Plains' new Big Marc Burger has its work cut out for it, as the Landmarc burger is as close to a perfect, traditional hamburger as you're likely to find.
Landmarc is located on the third floor of the Time Warner Center in Columbus Circle at 60th Street.