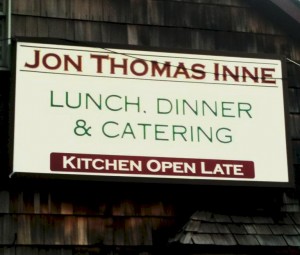 Big Burger Bargain
Burgers Ordered: Steve – Old #7 Burger, Christopher – Super Burger
The Experience:  Christopher is always on the lookout for a new place to have a Burger Adventure; just ask his poor wife, she'll tell you! As a result of his unquenchable desire for new burgers, he put out a call to all of his friends on Facebook to make some suggestions. One responder was his good friend, training partner, coffee slinger, and bass playing badass Joey "Smiles." His suggestion was the Jon Thomas Inne out in Brightwaters.
Brightwaters is pretty far out east from Christopher's house in Queens, so he wasn't sure when he would have an opportunity to check it out.  Recently, he made the trip, and he's glad that he did. Steve lives out in Selden and an opportunity to hang out with him while their wives went out to dinner was just the ticket to ride out to another Burger Adventure.
The Jon Thomas Inne is your typical bar/restaurant with standard waiter service. Steve and Christopher were really excited to be there as they had peered over the restaurant's burger menu beforehand and were stoked to find out if they could bring the burgerlicious satisfaction that they desired.
The Taste:  Steve ordered the Old #7 Burger, which is a beef burger served with a blend of bourbon & barbeque sauce, sautéed onions and cheddar cheese, cooked medium. He really enjoyed the taste of his burger; however he thought that they went a little light on the sauce as he said he was expecting it to be more present in the flavor. It was cooked as ordered and certainly had a healthy amount of sautéed onions on top.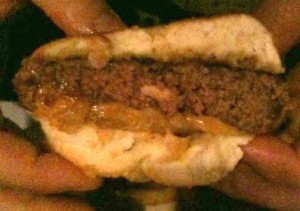 Inside Old #7
Christopher ordered the Super Burger, 3/4 lb. lean beef, bacon, American cheese, lettuce, tomato and sautéed mushrooms, and prepared medium rare. This big time burger was served on a sesame hoagie roll and cooked to juicy perfection. The bacon was crisp and delicious and there were just enough mushrooms as to not be overpowering. Christopher found the beef to be flavorful and the nice soft hoagie roll held up well. Steve and Christopher both went with seasoned fries which were delicious as well. The Jon Thomas Inne also offers standard fries and sweet potato fries.
The Verdict: This was a really great Burger Adventure, featuring delicious well prepared burgers and prices that won't break the bank. These Foreign Affairs Burgermeisters would definitely recommend the Jon Thomas Inne to anyone who is out east on Long Island and looking for a good burger. Oh and as a bonus, Monday Night is $6 burgers. You cannot beat that with a proverbial stick, friends!
Jon Thomas Inner is located at 91 Howell's Road Brightwaters, NY