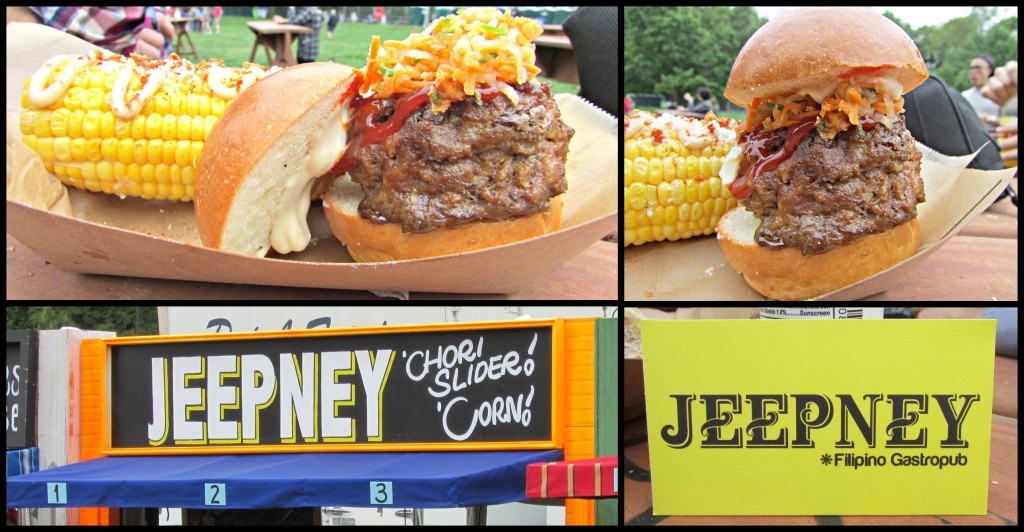 The Experience: The folks behind the Great Googa Mooga food and music festival just can't seem to catch a break. Last year their inaugural event was plagued by extreme heat and poor planning that resulted in a terrible registration process, long lines, and a lack of cell service for Instagram-loving attendees. This year the registration process went much more smoothly, the lines were manageable, and the cell service was much improved. Sadly, the final day of the festival was rained out, leaving attendees upset at missing out on the fun, and vendors in the lurch financially.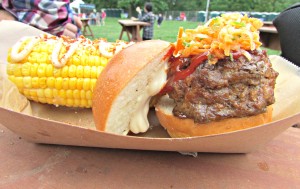 Luckily, the Burgermeisters attended on Saturday, and before the drizzly rain forced them back to Manhattan, they ate hamburgers from a whopping FOUR food vendors. One of those vendors was Jeepney, an import from the East Village. A Filipino gastropub, Jeepney caught the Burgermeister's curiosity thanks to the extensive time he spent mucking around in Pampanga and Manila in his early twenties.
Burger Ordered: Chori Slider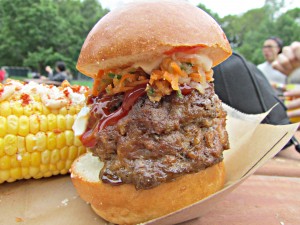 The Taste: The slider's patty, a mix between beef and longaniza, had a very distinct and enjoyable flavor. The banana ketchup was a treat as well. The small bun left a little to be desired, as it's toughness made eating the dense patty a bit more difficult than the Burgermeisters would have liked. They suspected however, that the full-sized burger in the East Village wouldn't have this problem. On top of that, the maggi aioli added a nice texture and taste, as did the distinctive atchara.
The Verdict: Between the unique and tasty burger and the flavorful corn, the Jeepney Combo hit the spot. Their East Village gastropub is definitely worth a visit.
Jeepney is located at 201 1st Avenue in Manhattan, New York.