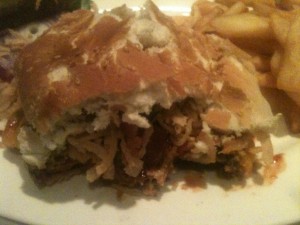 Bun Fail
Burger Ordered: Christopher – Black Angus BBQ Bacon Cheddar Burger
The Experience: Jameson's is your standard Long Island Irish Pub-style bar. The food is, in general, better than what you will find at most bars. My family has dined there on multiple occasions, mostly leaving us happy and satisfied with our dining experience. They also happen to have a tremendous osso bucco which I would recommend to anyone who is a fan of the dish.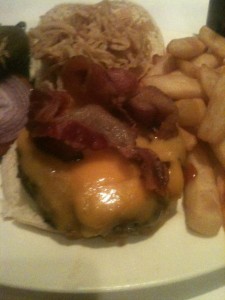 Pre-Bun Fail
The Taste: I ordered the Black Angus BBQ Bacon Cheddar Burger which is your standard angus beef burger topped with BBQ sauce, bacon, cheddar cheese, and crispy fried onions. I ordered my burger medium rare as per Burgermeister tradition. Also because this is the best way to get a burger. Seriously, anything over medium rare and you're drying it out and not getting the full flavor of the meat. The burger was very tasty, with nice bacon, a good amount of fried onions, and well-melted cheese. But the bun, which was just a plain white bun, completely fell apart! And not in the way I am accustomed to a bun falling apart either; the top portion broke into many pieces as I took my first bite! This is often the problem with plain white buns. There is no durability, plus they really don't add any flavor either.
The Verdict: Jameson's is a nice little bar/restaurant with good prices and a pretty good burger, I just wish they would invest in a higher quality bun.
Jameson's Bar And Grill is located at 157 Tulip Avenue in Floral Park, NY 11001, 516-326-8300