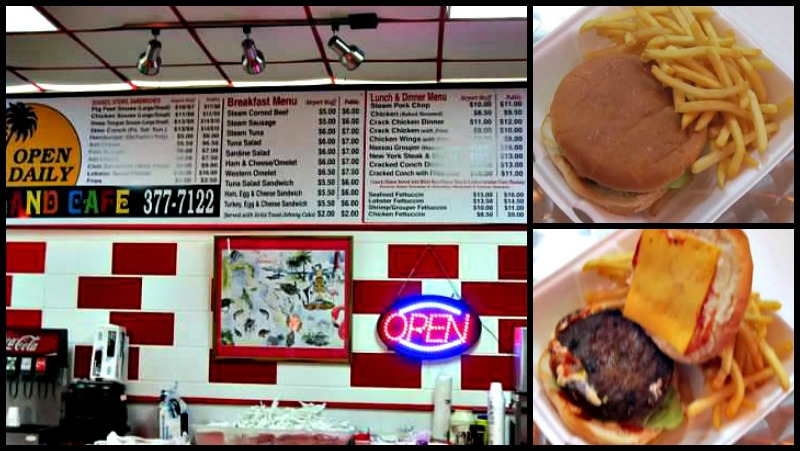 The Experience: After flying to Nassau's international terminal, my husband and I made our way to the domestic terminal where we had a few hours to kill before the next leg of our trip to the island of Eleuthera. The gate agent had suggested not leaving the airport in case the flight left early. This left us with two options. The first was Wendy's, which was before security and packed with taxi drivers and airport personnel. The second option was after security, though the gate agent assured us there would be food and drink there. As promised there WAS food and drink, but the opotions were very limited.
There was a bar (no food, just drink), the Island Café, and a souvenir shop. We took our chances with a burger at the Island Café. At first glance, expectations were not high. No locals were in line for food here but the area behind the counter looked clean. The grill was not in sight, but I grabbed two Kaliks from the bar and risked it anyway.
Burger Ordered: Cheeseburger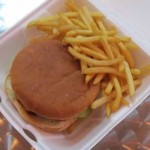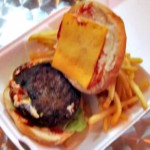 The Taste
: The presentation was not very enticing. The cheeseburger and fries were served in a foam container. The bun was not toasted and the burger was served open face. It was topped with one slice of yellow American cheese and plenty of
Rabbit Food
; lettuce (which had seen better days), crunchy raw onion, and tomato (sliced really thin). As a rule I usually ask for burgers without tomatoes because I'm not a huge fan. I think tomatoes can make or break a burger, mostly because of the sog factor.
The fries were thin cut but probably could have been cooked just a little longer. They were stingy on the ketchup packets but it was my own fault for not asking for more. And why didn't I ask for more? Because I was enjoying my burger.
The burger had a crunchy outside and a juicy inside, which was intriguing especially since I requested medium. And if that wasn't interesting enough, there was a tangy sauce or seasoning that must have been cooked into the burger. It delighted my taste buds. The bun was too big for the burger, but on the plus side it did not fall apart, and that earns big points in my book.
The Verdict: I was pleasantly surprised. I wish I had asked about the tangy sauce or seasoning this burger was prepared with because it added an extra something and made the burger memorable.
Island Cafe is located in Nassau Lynden Pindling International Airport's domestic terminal.