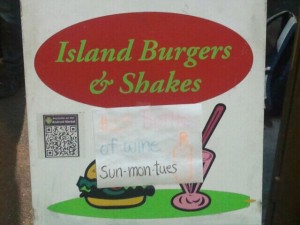 Sitting on an Ocean of Options.
Burgers Ordered: Matt – El Camino; Brad – Tijuana; Dave – Route 66.
The Experience: The Burgermeisters had been thinking of going to Island Burgers & Shakes for a while now, mostly because Brad recently moved to Hell's Kitchen and now lives incredibly close to the joint. On this particular night it was raining in New York City, and Matt decided he'd be a sport and meet Brad and his roommate Dave near their place on 9th Avenue.
The restaurant is narrow, shaped like many small restaurants in New York City. A bar in the front of the place takes up a good quarter of the entire area, and about half a dozen tables make up the rest. The walls are adorned with signs and posters you might see driving on an Island… or any highway in the early '90s (that's when the Burgermeisters last remember there being Texaco stations).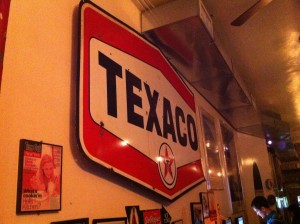 The waiter culture at Island is incredibly casual. The wait staff seem to be allowed to wear whatever they want. The Burgermeisters' waiter wore a flannel shirt. A second waiter wore a black spatter t-shirt and the hostess wore a grey hoodie. They almost looked like Burgermeisters themselves (except that Dave was still wearing his suit from work).
The menu at Island is MASSIVE. The Burgermeisters ran into ordering anxiety. Typically this doesn't happen to them, as there are often enough Burgermeisters on a Burger Adventure to get all or almost all of the burgers available at a given restaurant. There would have to be well over fifty guest Burgermeisters for that to be the case at Island. Eventually the Burgermeisters made their decisions, complimented their burgers with fries and beer and prepared to dine.
Presentation: Island has a solid selection of draft and bottled beers, including Captain Lawrence, a favorite of Brad's. When it comes to burgers, everything was kept simple. The messier toppings came already on the buns (or slices of bread in Matt and Dave's cases), while the lettuce and onions came on the side. The burgers were served open face so that the Burgermeisters could assemble them as desired and take ugly pictures of them in the incredibly dim restaurant. –Little Meisters, if you'd like to donate a lighting source to help the Burgermeisters take better pictures of their burgers, they'd greatly appreciate it.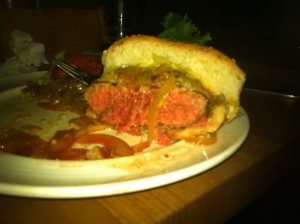 All of the burgers came cooked perfectly, medium rare as always.
Taste: For the first time, there was a very significant split in opinion between Brad and Matt. Matt's El Camino got off to a bad start when the incredibly juicy patty completely destroyed the sourdough bread on which it was served. For Brad and Dave it was like watching a sitcom to see Matt pick up his burger (he and Brad both had to cut the burgers in half so as to not make a complete mess) and have the patty plummet through the bread to the plate with a thud.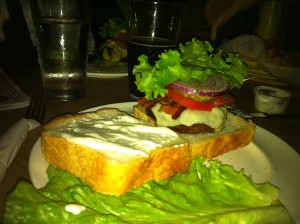 From there it was difficult for Matt to lift his mood. His bacon was cold and not nearly as good as bacon he'd had at other recent Burger Adventures. He was happy with the lean, thick and well-cooked patty, but didn't think the flavor of the meat was up to the standards of even half of the burgers he'd eaten since Burger Weekly began. Truly, this was a disappointing night for him.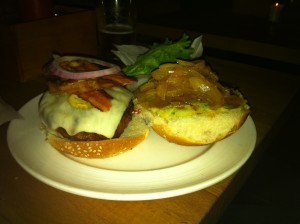 Brad on the other hand very much enjoyed his Tijuana. When he ordered off of the "A Little Kick" portion of the menu, he wondered which ingredient in the Tijuana would add spice to his burger. He quickly found that it came from the guacamole. Though spicy, it was easy to taste the avocado, lime and tomato elements in the guac. His patty was juicy to the point of obscenity and required a forest-destroying amount of napkins to clean up after. His bun held up to the juice and remained intact throughout the meal. All was not sunny in Tijuana however, as his bacon too was served cold, and while he enjoyed the crunch it gave the burger he couldn't help but long for strips of better quality.
Dave, being new to the Burger Weekly game, didn't know what it meant when the Burgermeisters called out "slow-down burger." He basically inhaled his Route 66 faster than any Burgermeister has ever eaten a burger. He was very happy with his choice, suggesting that it might be one of the stronger and more unique choices on the menu, specifically citing the avocado slices as a welcome element.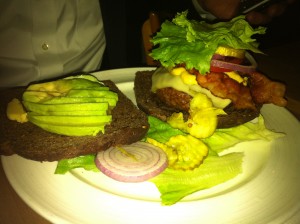 Everyone enjoyed the french fries as well. Brad liked them the most, as they reminded him of the heavily fried potatoes at Shorty's (Burger Adventure forthcoming). Dave liked them as well, but they reminded him of Burger King fries.
The Verdict: The Burgermeisters were split on this one. Matt felt that there was nothing special about Island Burgers & Shakes. While he didn't hate the experience, he wasn't sure if it was worth the amount of calories he'd ingested. Dave liked the experience, but likely won't remember it in a few days given that he finished his burger in about as much time as it would take the Flash to run around the world. Brad very much enjoyed his burger and would go back soon if he didn't have over 100 weeks of new Burger Adventures ahead of him. Little Meisters, all the Burgermeisters can say is that your mileage may vary.
To give you an idea of the true scope of Island's menu, the Burgermeisters have reproduced the burger section here. Enjoy.

Island Burgers & Shakes is located at 766 9th Avenue, at 51st Street.