Burger Weekly Invades Texas, Courtesy of the Burgervore
The Burgermeisters are excited to feature Guest Burger Adventures from the Burgervore.  Be sure to check out his Austin-based blog and follow him on Twitter.
Burgers Ordered:  The Hatcheroni and the Janis Joplin
The Experience:  I'm a sucker for things that are "new and improved", "special edition", "for a limited time only".  Statements like that get me every time.  So when I heard that Hopdoddy Burger Bar was going to be serving a "limited edition" burger with a hatch chile-laced fried mac & cheese patty, apple-smoked bacon, and chipotle aioli… well, they had me at limited edition, and I had to get it immediately.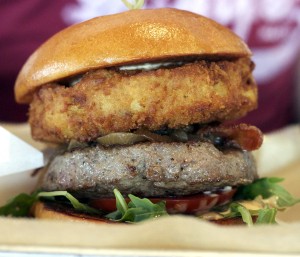 Hopdoddy opened its doors here in Austin in 2010, their passion being to provide their customers with the freshest available, all-natural ingredients.  Daily they grind their hormone/antibiotic-free Black Angus beef, bake their own buns from scratch and cut their own Kennebec fries.  With a sleek, modern interior, this is definitely not your typical greasy burger joint.  There is no "To-Go" option here.  To ensure you have the best experience possible, they only allow you to dine in.  Hopdoddy is two years into the burger game, and they still boast serpentine lines outside the restaurant.  Luckily, the wife and I got there early enough on our visit to avoid the madness.  And even as business started to pick up, our server stayed courteous and attentive – always a plus.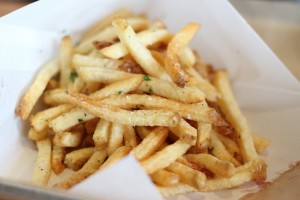 The Taste:  The wife's figure-friendly veggie burger, the Janis Joplin, came with a hemp seed veggie patty, avocado, sprouts, Tillamook cheddar, and horseradish honey mustard (Editor's note: The Burgermeisters don't approve of a veggie burger on their blog, but allowed it as an olive branch to their new friend, the Burgervore).   She really enjoyed the wheat bun and all the fresh veggies on her burger.  Also, she noted that the horseradish honey mustard added a nice spiciness to each bite.  Although her burger was hearty, she admitted that she did miss the meat patty (she really enjoys the bison patty that they offer here).
Affectionately called the Hatcheroni (aka, Hatch Mac), the burger I tackled was just nuts.  In addition to the deep-fried patty of goodness and Angus beef, the burger came dressed with arugula, tomato, caramelized onion, apple-smoked bacon, and chipotle aioli.  I should've known that I was in trouble when the waiter asked me if he could get me something to smush down the burger with.  I tried to press it down with my hand, but that thing did not want to budge.  The meat was seasoned and cooked perfectly, a succulent medium rare.  Even with the addition of bacon, the burger wasn't overly salty.  Actually, the bacon added a subtle smoky saltiness that complemented the rest of the burger.  I'm not a fan of arugula, but with its peppery flavor, it was the perfect green veg for this rich burger.  The bottom bun had no chance of survival.  I had to finish off the Hatcheroni with a fork because everything just fell apart.  I mention this bottom bun issue because sometimes it can be a big hassle if a burger is too messy to eat.  The bun (while intact) had a nice bite and density to it.  The fries were well-cooked and well-seasoned, thus pairing quite nicely with the burger.  The Kennebec fries had a light, mild potato flavor.
I enjoyed the experience, but halfway through the burger my mouth got tired from its overwhelming height, and I kinda forgot I was eating a burger.  With everything getting mushed together, it reminded me more of a casserole.  I got the sweats after eating this burger.  You know… when you've eaten more than you should have.  Although it was quite the visual spectacle, I would have to say that this was my least favorite of the Hopdoddy burgers I've tried so far.  Would I eat this burger again?  Yes, but this is definitely a once-a-year burger.  For now I think I'll stick with burgers that don't exceed 6 inches in height.
The Verdict:  Hopdoddy is a sophisticated burger-making machine.  Their lines run long, but that's because they have a product that makes their customers want to come back for more.  They've somehow managed to combine gourmet with familiarity into one beautiful package.  I truly admire how they support the local farmers and ranchers when possible and try to provide their customers with the best possible ingredients.  Although this particular visit wasn't exactly my favorite, there's a reason I ate at this place 3 out of 4 weeks last month.  If you'd like to read about more of my burger exploits, come check me out at The Burgervore or follow me on Twitter.
Hopdoddy Burger Bar is located at 1400 South Congress Avenue in Austin, Texas.