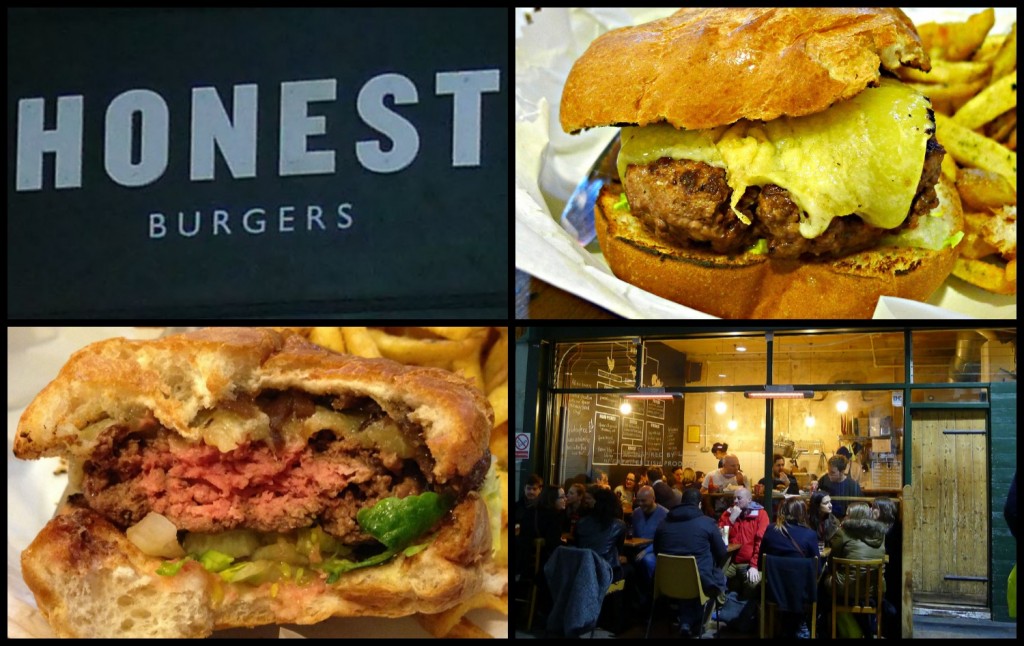 The Experience: Honest Burgers is located in busy Brixton Village Market. At one end of Brixton Market there are a few covered streets full of small restaurants. It feels like a kind of pop-up restaurant village, although the restaurants themselves are permanent. Honest Burgers probably seats around 25 including the outside seating. Our Burgermeister turned up not long after they had opened for evening service and they were already packed. The waiting list ran to an hours wait, but that wasn't going to put off the Burgermeister!
Burger Ordered: The Cheese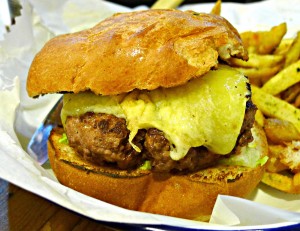 The Taste: The burger came served in a sourdough bun, which was nicely toasted and enveloped the patty perfectly. Now some may find cheddar a strange choice of cheese (the other options were Red Leicester or Stilton), but the idea here is that Honest Burgers want to produce a distinctly British burger. The locally sourced ingredients, the red onion relish, and the choice of cheese all contribute to creating a burger that is trying to be as a British as possible. So how did this burger taste? Like heaven! The quality of the beef shone through in the rich flavour of the meat. The grind was lovely and coarse and the patty cooked medium was nice and pink in the centre. The meat used was 35-day dry aged beef from local London butcher The Ginger Pig. The red onion relish added a nice bit of sweetness to the mix as well. It probably wouldn't be the Burgermeister's first choice as a topping as it can distract from the taste of the meat, but it was telling that he didn't reach for the ketchup to mask that particular flavour! The burger came with triple cooked fries which were covered in rosemary salt and were simply out of this world. Triple cooking the fries had left the insides beautifully fluffy whilst the outside was perfectly crunchy. Not a single fry was left.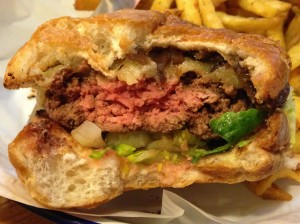 The Verdict: This was a seriously good burger and one of the best that the Burgermeister from Bristol has tasted. The flavour of the meat was delicious and the Fries with rosemary salt were on another level. Close to perfection!
Honest Burgers is located at Unit 12, Brixton Village, London, England.
You can read more of Fabian's food reviews here. Follow him on Twitter here.