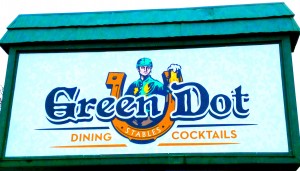 Burgers Ordered: PB&J, Black Bean, Grilled Cheese, Tempeh, Cheeseburger, Cuban, Gyro, Korean, and the BBQ Bacon Slider.
The Experience: Burgermeister Brad is always looking for the best burger place in Metro Detroit, as he visits his family in the area often. While home for his sister's wedding, no place came more highly recommended than Green Dot Stables.  In fact, Burger Weekly co-founder Sam even made an unexpected phone call to Brad to let him know that Green Dot Stables, located near the famous train station in Detroit proper, is a must-try, even though they serve sliders and not full-sized burgers.  Since Brad had already showed that something that tastes excellent can get him to bend on his very strict red-meat-and-full-sized-burgers-only rule, he decided to grab a couple of Michiganders and check the place out.
Green Dot Stables is literally in the middle of nowhere in Detroit.  There is no way that anyone drives by this place and finds it by accident.  Though only blocks away from One Detroit Center, the little corner of West Lafayette and 14th Street is immediately within view of absolutely nothing.  Yet through word of mouth alone, the restaurant had a very good crowd on this Saturday afternoon.  The waiter was very friendly, knowledgable, and passionate about Greed Dot's offerings.  The Burgermeisters ordered 10 sliders amongst them and eagerly awaited their meal.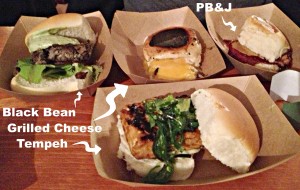 The Taste: Geoff ordered the Tempeh, the Grilled Cheese, the Black Bean, and the PB&J. He liked the Tempeh the best, saying it had great flavor and seasoning. He loved the contrast with the wasabi mayo.  He found the three cheeses on the Grilled Cheese overwhelming, and the Black Bean to be good but nothing that stood out. He also said of the PB&J that the beef was lost under the taste of the peanut butter and jelly, making it more of a schoolboy sandwich than a burger novelty.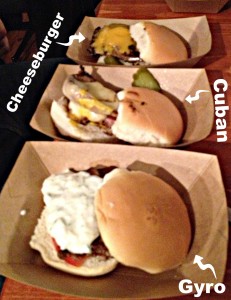 Ryan ordered the Cheeseburger, the Cuban, and the Gyro. He called the Cheeseburger an excellent traditional slider, the Cuban an amazing pork take on the slider, and the Gyro a fantastic and unique treat, playing up the tzatziki sauce as a real highlight.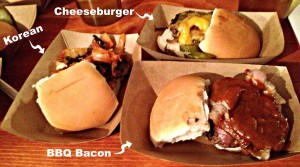 Brad went with the Korean, the BBQ Bacon, and the Cheeseburger. He didn't read the menu closely enough and was surprised when he found peanut butter on the Korean, and pleasantly so, as he enjoyed the peanut butter on a previous burger.  He agreed with Ryan that the Cheeseburger was a competent take on the traditional slider. His favorite however was the BBQ Bacon, with delicious sauce and wonderful bacon. He liked it so much he gave it a close up.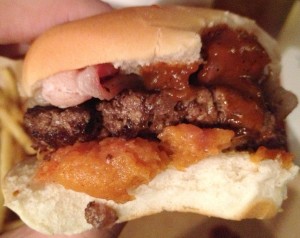 The Verdict: Green Dot Stables was a winner on all counts, from the wonderful service to the interesting decor to the fantastic food.  MIchiganders should make a special trip to this Detroit spot.
Green Dot Stables is located at 2200 West Lafayette Boulevard in Detroit, Michigan.