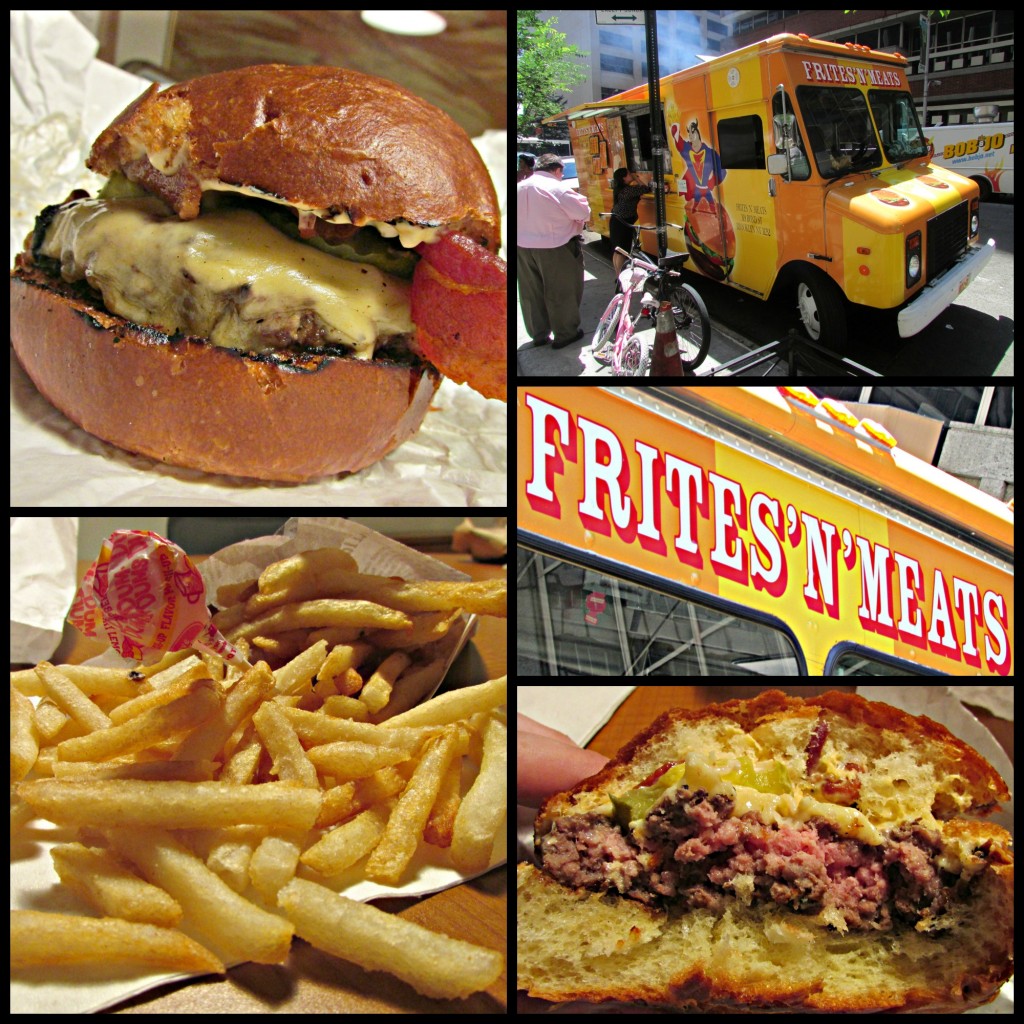 The Experience: I love food trucks. There's something about getting food from a mobile stand that makes me more excited than ordering from a stationary building. So this summer I resolved to review as many food truck burgers in New York as possible. So far I have failed in this task, as this is only my second outing, but boy what a doozy it turned out to be. Frites 'n' Meats has so many mix and match combos that rather than have its patrons stare at a menu and then crowd together to order, they put out cards and pens to be filled out for custom-burger-satisfaction. I went with the grassfed angus patty over the slightly more expensive Kobe beef patty for my first Frites 'n' Meats go-around, and then added bacon, cheese, and the truck's custom Jazzy Sauce for good measure. The process was very quick, especially given how crowded the are was with financial district eaters.
Burger Ordered: Bacon Cheeseburger with Jazzy Sauce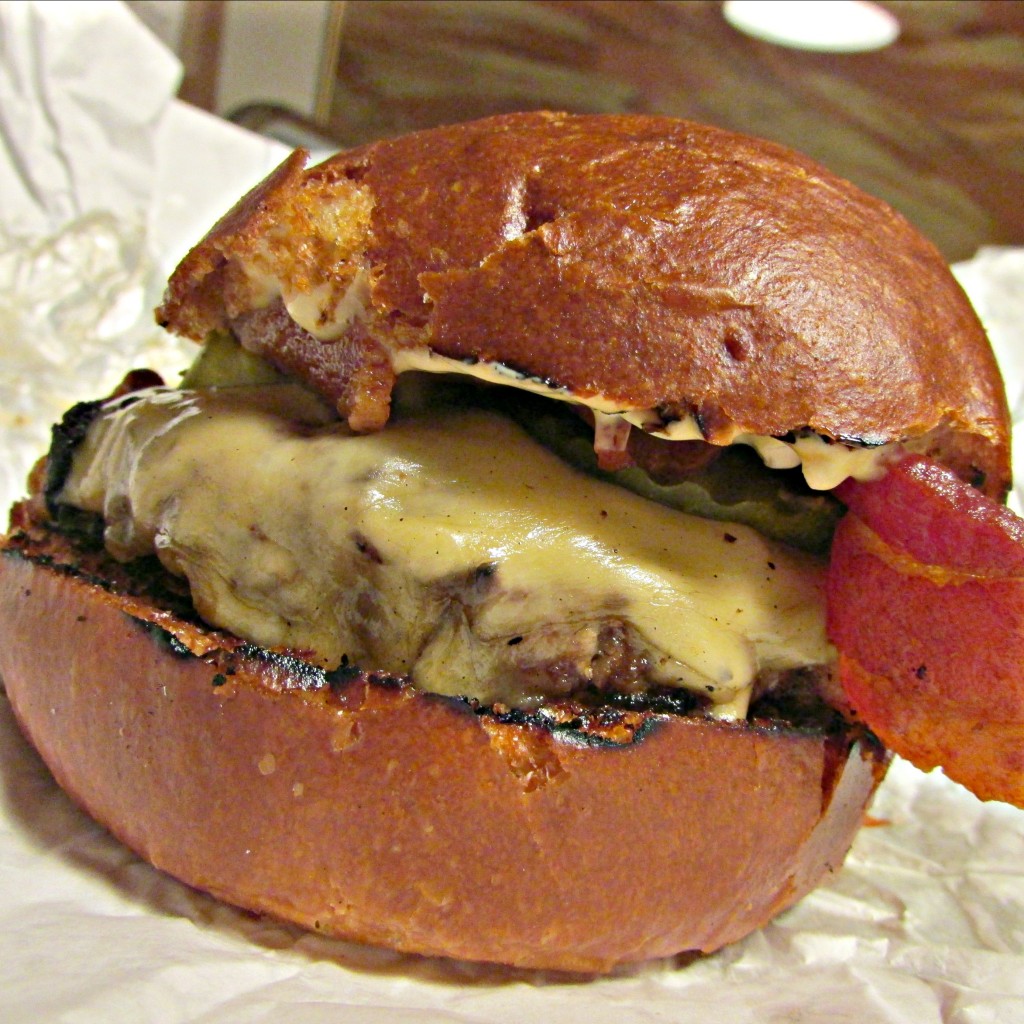 The Taste: This was an almost perfect food truck burger, which is to say it had an incredibly hearty flavor without being so large that it put me into an afternoon food coma, which would have ruined my productivity for the rest of the day. The patty was flavorful, and served medium rare even though I didn't specify what temerature I wanted. That proved to me that these food truckers are serious about hamburgers. The Jazzy Sauce was a real treat, and the Gruyere cheese that I ordered tasted fantastic. The brioche bun was crispy in all of the right places. My only real complaint is that the bacon was a little bit tough to chew, though I appreciated its salty essence.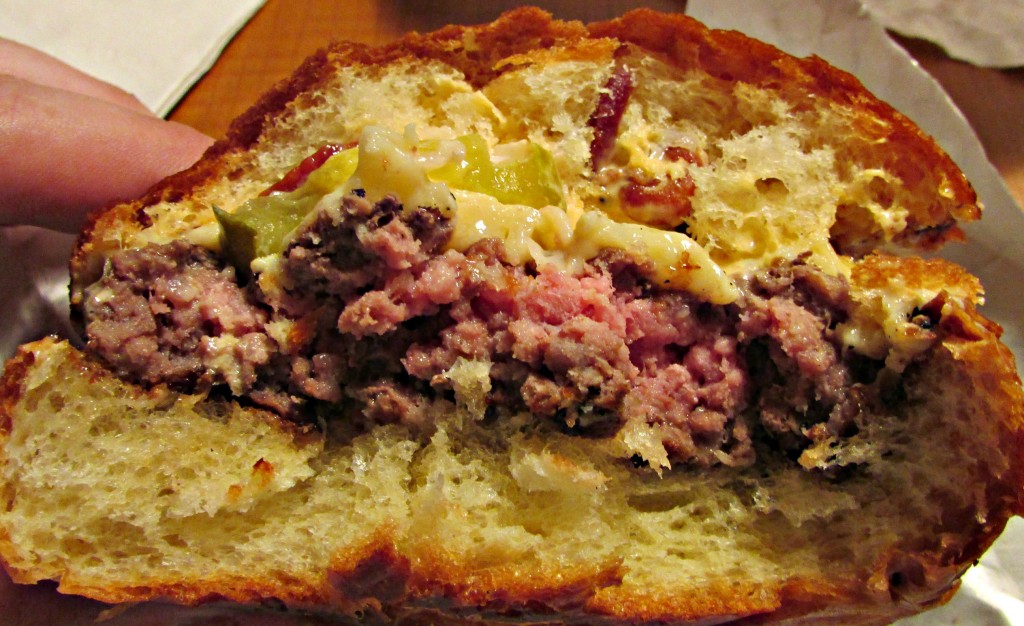 The Verdict: Frankly, I was surprised by how much I liked this meal, and how little it slowed me down the rest of the day. Between the stellar burger and the MOUNTAIN of crispy fries, you can't go wrong if Frites 'n' Meats is in your neighborhood.
Frites 'n' Meats is at different Manhattan locations every weekday. Its schedule can be found here.