We'd Rather Watch Gangs of New York

Burgers Ordered: Brad – American Wagyu Beef Burger
The Experience: Five Points isn't particularly heralded as having a masterful burger, but when Brad went there for dinner there recently and saw the words "American Wagyu Beef Burger," he had to satisfy his Burgermeister curiosity.  Five Points is a large, classy establishment.  Though Brad's waiter looked like a white version of Common, he was steeped in fancy-waiter tradition.  It wasn't long before a juicy looking patty and a mountain of fries were in front of Brad's hungry face.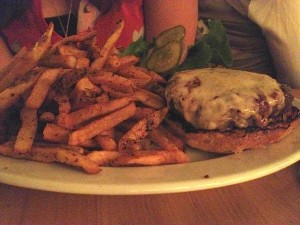 So much potential.
The Taste: Brad took his first bite and immediately realized that, while pink as he could as for, the patty was dry and lacking in the critical burger juices. The rest of the burger's components served, as the Vermont cheddar cheese was tasty, the bun was serviceable, the sauce was a pleasure and the fries were delicious.  The pickles were a nice touch though Brad left the rest of the rabbit food uneaten.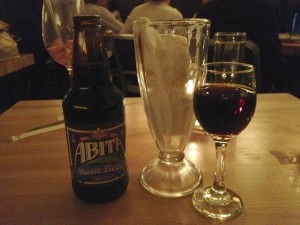 Boozy Abita
The middling burger was completely forgotten by the time dessert arrived.  Brad typically balks at dessert in a restaurant unless he knows for certain that something on the menu is a must-try.  He broke his rule when he saw a booze root beer liqueur float and was rewarded for his risk with a delicious nightcap.
The Verdict: While not particularly bad, the burger at Five Points is far too expensive to be as completely forgettable as it is.  Five Points is a solid outing for a classy night out, but as a burger destination it misses the mark.

Five Points is located at 31 Great Jones Street between Lafayette & Bowery.