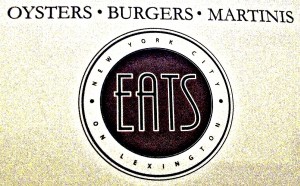 Burgers Ordered: Dry Aged Beef Burger
The Experience: The Burgermeisters were incredibly thankful to have been spared any tragedy, really even any serious inconvenience, by Hurricane Sandy.  As such they felt it was important to show a little Burgermeister love and volunteer downtown with GOLES. Well nothing builds up an appetite like trekking across the city and doing good deeds (especially given that charity and good food activate the same part of the brain). With much of lower Manhattan still gaining its footing and its burger joints just turning on their lights for the first time, the Burgermeisters ventured north to Eats, which boasts Time Out New York's Best Burger Showdown winner, to get a taste of and celebrate New York's finest.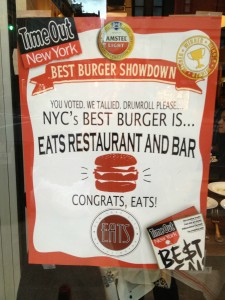 Eats is a cozy corner restaurant, one that was obviously a corner diner in a past life. The lighting, decor and menu make Eats an ideal place for an evening out.  It's oyster and mussel offerings make it more diverse than a typical burger destination. In fact, the Burgermeisters noticed a couple sitting nearby eating what looked to be an incredibly delicious pot of mussels and french fries.  But this blog is about burgers, so let's see if New York helped TONY pick a winner.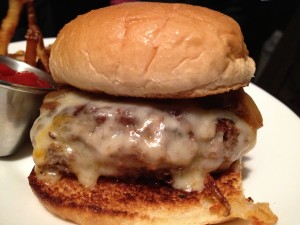 The Taste: Guest Burgermeister Jacki demanded that "The Taste" section this week begin with adulation for Eats' complimentary bread.  It is served with a bean spread that is unique and tasty. Eats earns points immediately for keeping its hungry customers satiated on good food while waiting for their burgers to grill. Both she and Brad also went crazy for Eats' french fries and the rosemary mayonaise that they ordered for dipping.
Jacki ordered a Swiss covered version of the Dry Aged Beef Burger. She liked the grilled, crispy outside of her patty, though lamented that the inside, though well cooked and very juicy, well not well seasoned.  Swiss wasn't distinguished. She was disappointed that the burger was served on a plain, store-bought bun, and said that though it did become soggy it never stopped supporting the patty.  Her Swiss cheese wasn't distinguished, but the grilled onions may have made up for that.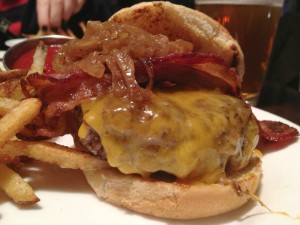 Brad's Dry Aged Beef Burger was topped with cheddar cheese and bacon (for $2 more). He felt that Eats did a lot with the simple bun that they used, toasting it and giving it a bit of flavor. His cheese was tasty and he loved the flavor of the bacon and onions. Though he had a slightly more positive opinion of the burger, he agreed that the patty was not seasoned enough to be considered New York's finest, and ended up adding some of the rosemary mayo to give it more flavor.
The Verdict: Though many elements of this burger were great, the Burgermeisters were hard pressed to call Eats' offering the best burger on the Upper East Side, let alone the best in New York.  Sadly, it is becoming apparently that crowdsourcing "best burger" titles is far from accurate… but then that's why you read blogs like this one, right? *coughcough*
Eats is located at 1055 Lexington Avenue at 75th Street. 
There are many in New York that still need your help with recovery efforts after Hurricane Sandy. GOLES, New York Cares, Fuel Relief Fund and Masbia are just a few organizations that you can help to make a difference through donations and volunteering.