Burgers Ordered: Brad & Julian – Cheeseburger; Matt – Bacon Cheeseburger.
The Experience: Since the formation of Burger Weekly, the Burgermeisters have been searching out the best hamburger joints in NYC. With much enthusiasm a lot of their friends, coworkers and passersby on the street have thrown suggestions their way. They've also been searching for new burger adventures using the webernets and articles chronicling the best burgers in the city.
Recently, Brad and Matt's boss's boss recommended that they try Donovan's Pub in Woodside, Queens. He described it as an ultra-authentic Irish pub with a burger they wouldn't want to miss. Around the same time, Erin (orderer and harsh critic of the Lamb Burger at Rare) showed the Burgermeisters an article listing the five best burgers in Queens, one of them being the burger at Donovan's Pub.
There was only one problem: Brad lives in Manhattan and Matt lives in Brooklyn, and as we all know you can't enter Queens if you're from Manhattan or Brooklyn unless supervised by a Queens resident. That's where Julian came in. A resident of the adjacent neighborhood Sunnyside, Julian had actually been to Donovan's many times before. He was more than happy to get Brad and Matt into Queens, but did not promise the journey would be easy.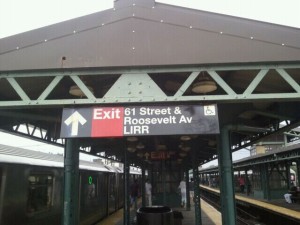 We're not in Kansas anymore Toto.
Our ultimate goal was to get from the 86th Street 4-5-6 station to the 61st Street & Roosevelt Avenue 7 station. In what could have been a bad omen, it was monsooning in Manhattan. The Burgermeisters grabbed a few children's sized ponchos from work and made their way down Lexington Avenue. Wet socks and all, they traveled into the sweltering subway station only to find that the weather (or some mysterious "earlier incident") had put the express train out of commission. After a harrowing transfer to the N train that saw the Burgermeisters face down the most intense claustrophobia known to man, they made it to Astoria to switch to the 7 train without being arrested by inter-borough customs. Julian had done his part.
Presentation: The Neighborhood surrounding Donovan's is quaint. Brad dusted off an old joke when he remarked that it looked more like Queens, Wisconsin than Queens, New York. The Burgermeisters also wondered how inexpensive housing must be in this neighborhood because of how inconveniently loud the elevated train was. Matt noticed a barefoot girl dancing in a massive puddle in front of the church across the street from the restaurant and was bewildered by her. It was a scene out of A Bronx Tale, but not something you typically see on the streets of New York today.
The restaurant itself looks like something you'd see in the suburbs. It's shingled roof separated it from the surrounding buildings and reminded us that there are eateries that don't have apartments above them. Donovan's is downright cavernous, twisting and turning into multiple rooms with ample seating and homey decor. The waitresses dressed the part and had soft accents to go along with the bar's Irish origins. The stucco walls, walk-in wine cellar, old hardwood floors and old Irish style bar clashed only with the requisite 32 inch flatscreen TVs that apparently MUST be in every bar today.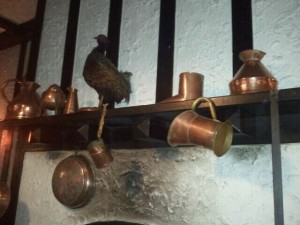 Above the fireplace, pans and pitchers we hope aren't used in the kitchen. Also a new rooster friend.
The menu was incredibly basic, and as always the Burgermeisters only looked at the burger section. Offered were the basic burger, a cheeseburger, a bacon cheeseburger, a turkey burger and a chili burger. The chili burger was italicized. The Burgermeisters surmised that this was a typographical error that was never fixed. And why should it be? A place like Donovan's doesn't need to be perfect, it just needs to cook good food.
And cook good food it did…
Taste: All of the burgers came cooked to order, medium rare of course. The patties were huge, charred on the outside but perfectly pink on the inside. These weren't pretty burgers either. On the outside they looked like a giant hockey puck, but once the Burgermeisters took their first bites and/or cut their patties down the middle, a whole new world opened up to them.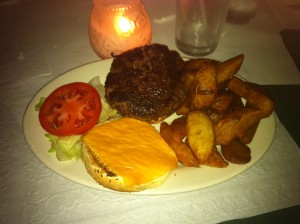 Like all the best burgers that the Burgermeisters have enjoyed, these seemed to melt on the tongue. Chewing was almost optional. The fries that came with every burger could be better described as potato wedges. Everything on the plate was large and heavy, just the way an Irish pub should be serving it.
With a little bit of pepper, Brad was having the meal experience of a lifetime. He harkened back to Sam's warning back at Genesis that this could be a "slow down burger." Brad did his best to take his time, but at the end of the meal he felt like he needed a nap at the table because of how much meat and potatoes were in his stomach.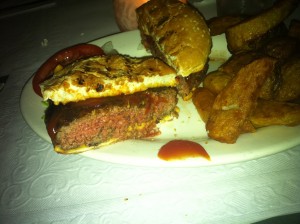 Matt and Julian shared in Brad's adoration of the low-in-flash-high-in-taste burger. Julian said he prefers burgers like this to those that try to break the mold or dress the patty up too much. Julian apparently likes his burgers the way he likes the rest of his life, easy to deal with and delicious. He's also known for how much he lambasts the gentrification of New York, so this came as no surprise to the Burgermeisters.
Matt had a hard time saying anything at all because the ravenous way in which he attacked his burger caused it to bleed and fall apart on him. He wanted to take a picture of what his burger did to his napkins but his hands were too messy to hold his iPhone. His last bite was also his biggest, and while his mouth was full it was also smiling.
The Verdict: There's no flash at Donovan's Pub. These people know they're known for their burger and they don't try to dress it up. Where most Manhattan spots have a huge list of burgers with different accouterments, Donovan's knows you'll come back after eating their basic burger. You owe it to yourself to hop on the 7 train and give this spot a visit.
Donovan's Pub is located at 5724 Roosevelt Ave at 58th Street in Queens.