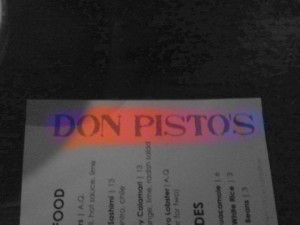 The Real San Francisco Treat
Burgers Ordered: Simon – The Hamburguesa
The Experience:  For his birthday, frequent Guest Burgermeister Simon's brother agreed to fly him out to San Francisco for a visit.  He told his brother about his Burgermeister experience and was met with the following:  "Well you can either go to Don Pisto's for the greatest burger in San Francisco or to a place called Burger
Meisters."
Photo actually taken by Little Meister Meghan D.
While the opportunity to visit a restaurant sharing the official title of those in Burger Weekly was tempting, Simon couldn't pass up the opportunity for a great burger. He and his brother went to North Beach, a trip which took them up one of those notoriously ridiculously steep hills. The restaurant itself had no sign out front and was marked only by a string of glowing red lights.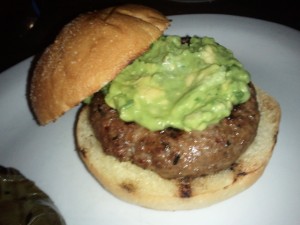 Hamburger + Guacamole = Hamburguesa 
The Taste: Simon was concerned when the waiter didn't ask him how he wanted his burger cooked.  His fear stirred inside him as he and his brother sat waiting for their food in the dimly lit restaurant, surrounded by exposed brick walls.  When the waiter returned with his food, all became good in the world again.
Simon said that while the crust of the bun was a little tough for his liking, he appreciated that it kept the bun's integrity intact in the face of what could have been a messy burger.  He said that the patty was very juicy, even in light of the fact that the burger was served medium.  He called the guacamole a perfect pairing for the delicious patty.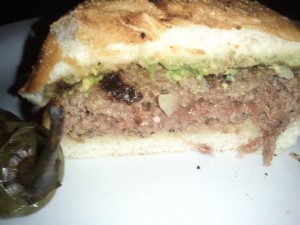 Temperature: Medium. Taste: Fantastic
The Verdict: Simon left Don Pisto's feeling that he made the right call in choosing it for his dining needs. He was very happy and would be willing to believe it was one of the best hamburgers in San Francisco.  That's high praise coming from a seasoned Guest Burgermeister, so San Franciscans should take note.
Don Pisto's is located at 510 Union Street at the corner of Grant Avenue in San Francisco, California.