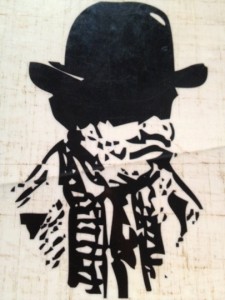 Elementary
Burgers Ordered: Michael – Supreme Burger
The Experience: Doc Watson's has been a regular watering hole for the Burgermeisters and their friends for a few years now.  While many bars boast delicious bar food, most of the time said food is easily confused between one bar and the next because of its inability to stand out.  At a recent happy hour at Doc Watson's, Brad was hesitant to get a burger with no reputation.  However,  Michael had courage, especially after seeing the extensive burger menu.  He settled on the Supreme Burger because of its menacing name.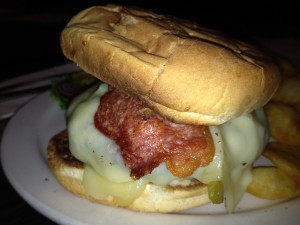 Crusty
The Taste:  Overall, Michael was pleased, but he as is typical with bar food he said he'd likely forget the burger entirely after a short while.  He said that the patty was good and had a lot of flavor.   He reported that the peppers were a nice touch too, but that the bun was overly toasted as though it was covering up staleness, that the bacon was tough and that the cheese was completely forgettable.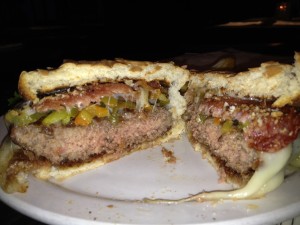 Beautiful on the inside.
The Verdict: It always pains the Burgermeisters to hate on the food, specifically the burgers, at a bar they enjoy for its intended purpose: alcohol.  However in the interest of fairness, though Doc Watson's remains a fun Upper East Side establishment for a few drinks, it falls short in the burger department.
Doc Watson's is located at 1490 2nd Avenue between 77th Street and 78th Street.