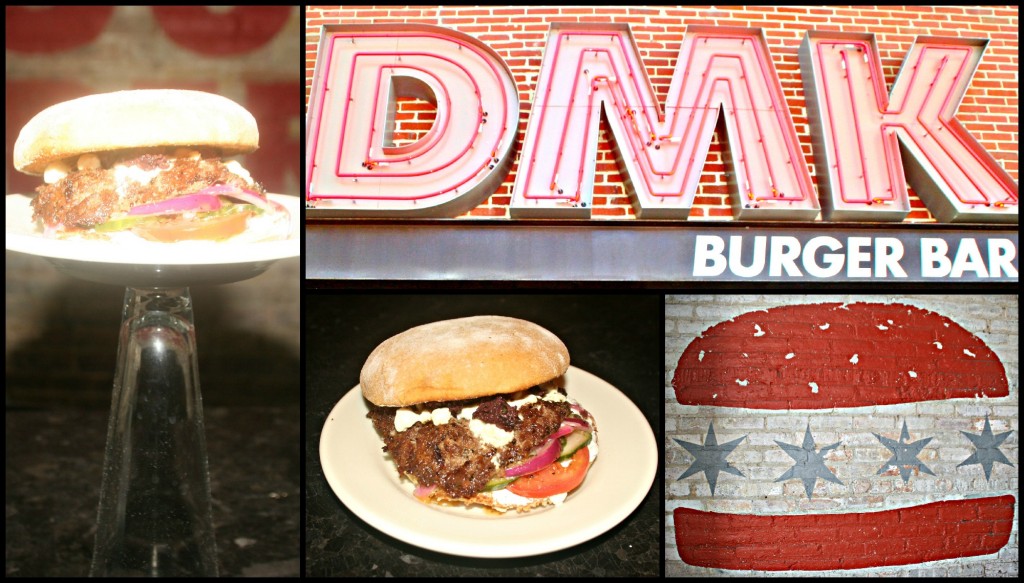 The Experience: Staring at me from across DMK Burger Bar was an image that frankly deserves to be tattooed on a loyal Chicagoan hamburger lover's body: two buns separated by the four Chicago stars, an epic image candidly representing the establishment's epic hamburgers.
DMK Burger Bar does not substitute ingredients on their burgers. To me, this shows they're confident in their burger preparation and want to tell their customer, "Look, embrace this burger experience or go home and cook your own patty." They prepare it to just the right size, showing you that they're not trying to fill you up and send you to nap the rest of the day away, but that they want to show you quality.
At first, my server almost persuaded me to try the Patrick Kane burger, a burger introduced right when the Blackhawks hit the ice and will be offered until they secure the Stanley Cup. However, not being the biggest fan of its staple, bleu cheese dressing, I decided to channel the restaurant's inner summertime Chi in a Mediterranean burger: The 11.
Burger Ordered: The 11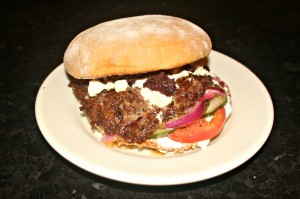 The Taste: Composed of grass-fed lamb, sheep's milk feta, olive tapenade, Greek salad and tzatziki sauce, I feel confident saying that it was one of the most, if not the most impressive Mediterranean burger I have tried in the city thus far. It was stacked to a science, as if whoever prepared my burger took the time to make sure that the feta cheese would not crumble onto my plate, forcing me to scoop it up, get it into my mouth and look ravenous in front of my date. What surprised me most, though, was that my burger was not only stacked to perfection, but it was served in approximately fifteen minutes, a rarity in Chicago restaurants serving dinner on a Friday evening. I was baffled, and I was impressed.
The Verdict: Rather than being a spot that one would visit once a month in order to avoid beefing up, DMK makes their burgers more accessible, bringing in committed burger-lovers that eat there weekly. There is no doubt that I'll be back, and that I'll go a step further to order from their impressive Viva Tequila menu. And I might just get these two buns with the Chicago stars in between tattooed after all.
DMK Burger Bar is located at 2954 North Sheffield Avenue in Chicago, Illinois.