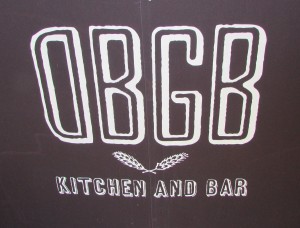 Burgers Ordered: The Frenchie, the Piggie, and the Yankee.
The Experience:  Last year, the Burgermeisters took a tour of Mark Murphy's New York burger offerings at Landmarc and Ditch Plains. In a similar vein, this week's Burger Adventure begins  a three part series of reviews of Daniel Boulud's New York burger presence.  This week it's the gastropub DBGB. Next week, the Burgermeisters will tackle the über burger at db Bistro Moderne. The following week, Burger Weekly will take a bit out of Mr. Boulud's own favorite burger in the city, at the Odeon.
DBGB, named as a pun on the neighborhood staple closed-since-late-2006-club CBGB, has a unique style and is most notably awesome for its two-seater benches at the bar. As such, DBGB could stand for Daniel BouludGrass and Blues.  As it turns out, the Burgermeisters took a liking to BouludGrass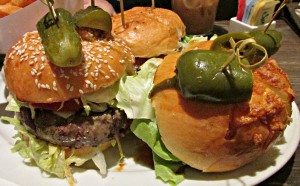 There are three burgers on the menu at DBGB; the Yankee, the Frenchie and the Piggie, all incredibly well named given their taste and presentation.  An option to order all three, aptly called the Ménage à Trois, is available for $48, knocking a few dollars off of the regular price.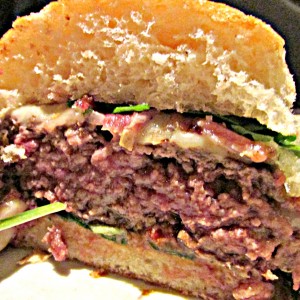 The Taste: The only burger that wasn't close to perfect was the Frenchie, and it wasn't for lack of trying.  In fact, the Burgermeisters think they might simply be too 'Merican for the Frenchie, as it was the heavy mustard that the French supposedly love that masked the taste of what Burger Weekly's finest wanted most; the meat! Excited for the confit pork belly, it was hard to taste the thin delicacy through the powerful mustard. The patty was cooked perfectly, however, and the gherkin covered bun was a fun change of pace.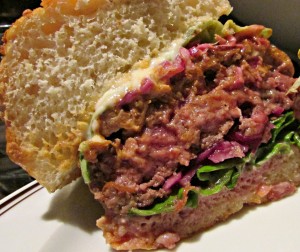 Everything that the Frenchie left the Burgermeisters wanting was found on the Piggie.  The housemade barbecue pulled pork that topped the expertly cooked patty was outstanding. The jalapeno that topped the burger gave it an incredible kick, and the cheddar bun was the only roll that could have possibly held this treat together.  If you're only going to get one burger at DBGB, make it this one.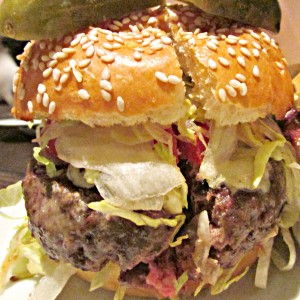 As with the Piggie and the Frenchie, the Yankee's patty was cooked medium rare as requested. The Vermont cheddar was the icing on the delicious burger cake.  It perfectly complimented the beef.  It was cut thick enough so that it was easily tasted without distracting from the richness of the patty. The bun and Rabbit Food were both average, allowing the cheese to steal the show.
The Verdict: DBGB's 6 ounce burgers focus much more on dazzling your taste buds than they do on filling your stomach, leaving you with room for the delicious fries, tasty salads, or diverse and sinful desserts offered at the gastropub.
DBGB is located at 299 Bowery, at Houston Street, in Manhattan, New York.