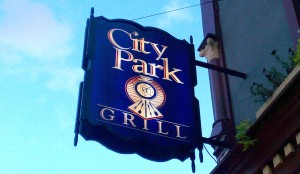 The Littlest Burgermeister is Back!
Burgers Ordered: Jake –  Award-Winning Chicago Burger
The Experience: Petoskey, Michigan is the home to many great restaurants, and one of the gems is undoubtedly the City Park Grill. This upscale establishment features an extensive wine and beer list and often hosts live music and other special events. The building has been in the same location since it was built in 1875, when it was a male-only establishment. In recent years it has been remodeled to reflect the original Victorian façade of its early days. Accompanied by his wife and child, Burger Weekly Baby Mascot Vivienne Rose, Jake was eager to try the food just after walking into the building and being seated.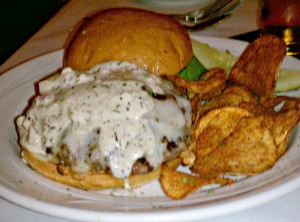 The Taste: Beyond the impressive ambience and history of the building, the food is phenomenal. While the menu doesn't say which Award the Chicago Burger won, Jake would be happy to give it the "Best Burger in Petoskey" prize. The burger is topped with bacon, mushrooms, Swiss cheese, bleu cheese sauce, lettuce, tomato, and red onion. It was cooked perfectly, juicy but not bloody. The Swiss and bleu cheeses mix perfectly together without overwhelming each other, and the bacon was nice and crispy. Overall Jake said this was one of the best burgers he's ever tasted.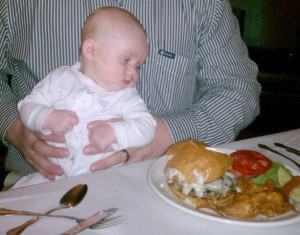 The Littlest Burgermeister eyes Jake's dinner.
The Verdict: City Park Grill is an undeniably impressive restaurant. With a nice building, attentive wait staff, and phenomenal burgers, City Park Grill earns the highest recommendation.
 City Park Grill is located at 432 Lake Street in Petoskey, Michigan.