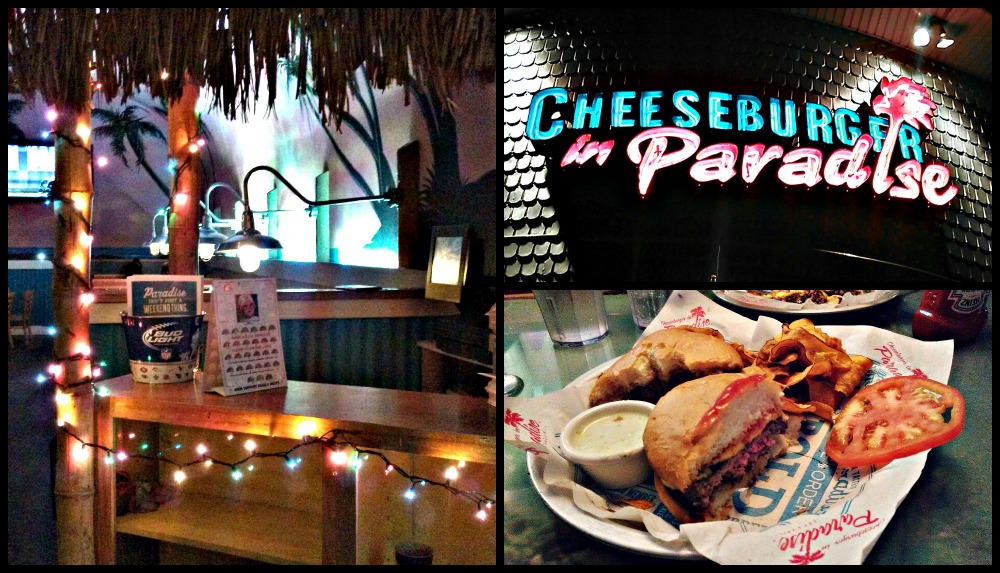 The Experience: Situated in an outdoor mall in Secaucus, Cheeseburger in Paradise sits among recognizable chain restaurants and a movie theatre. I had never dined at a CiP before this trip, and I visited with two girlfriends on a Tuesday night. Our primary purpose was to catch up over the burgers they had both raved about. The bar was hopping and the dining room was pretty crowded. We followed the hostess to a table in an emptier part of the dining room, right next to the live music. My guess is that it was empty not because of the quality of the music, but because the acoustics are terrible and you have to scream at your dining partners. It took forever for a server to come over and when she did we asked to move and were moved to the other side of the dining room – which is likely what most people did since the crowd was overwhelmingly away from the music.
Burger Ordered: All American Beach Burger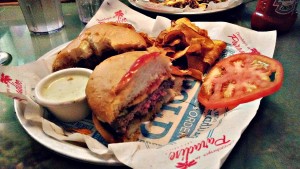 The Taste: The presentation was so good. One of my friends highly recommended the sweet potato chips and I gladly obliged. My other friend got a wrap and asked for no wasabi. I am a sucker for spicy so my ears perked up and I asked for her wasabi on the side. The burger is traditionally served with two slices of American cheese, Dijon mustard, lettuce, tomatoes, sliced red onion, and Claussen pickles.  I don't like my with lettuce and tomato, so I asked to hold some of the rabbit food. The tomato came anyway but I just put it to the side.  I must have gone a little heavy on the side of wasabi because I woke up in the middle of the night with the worst heartburn ever, but that aside the burger was pretty great.
The Verdict: Upon leaving, I was stuffed. The restaurant was a little campy but with the brisk weather outside it felt nice to be whisked to paradise.
Cheeseburger in Paradise is located at 700 Plaza Drive in Secaucus, New Jersey.