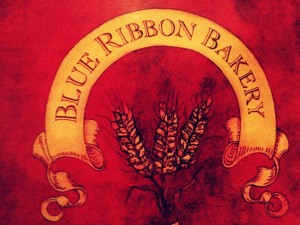 What manner of bakery is this?!
Burgers Ordered: Brad, Kate & Vanessa – The Bacon Cheeseburger
The Experience: Another week, and another burger off of the Burgermeisters' primary target list is tackled. Matt took a powder on this week's adventure, so Brad recruited his Brooklyn contingent and paid a visit to the West Village's Blue Ribbon Bakery. Expectations were high, as the spot has a reputation for fine food and a fun atmosphere. The Burgermeisters ordered their burgers with varying cheese choices (Brad = provolone, Kate = bleu, and Vanessa = Swiss) and the Burger Adventure was underway.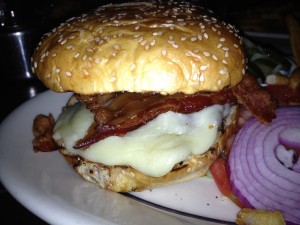 Bacon: The savior of mediocre hamburgers.
The Taste: Kate was upfront about that fact that her griefs with the burger may have been related to an illness that befell her that day, but she thought the burger was dry and didn't have the desire to eat even close to the entire thing. She did enjoy the bacon and bleu cheese, however. Vanessa's burger was overcooked, but like Kate she too found happiness in her bacon and cheese. Brad's story was much the same, as the burger wasn't juicy enough for him, but he raved about the crispy, flavorful bacon.
Everyone enjoyed the fries and the taste of the bun. The bun was not only tasty, but aesthetically quite beautifully grilled and sesame seeded. Blue Ribbon Bakery really breads their butter with their baked products, literally; the pre-meal bread and butter were the stuff of legend.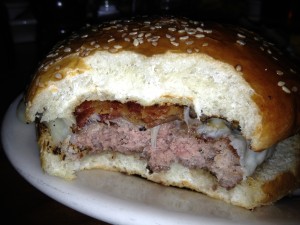 Cooked pink, but where are the juices?
The Verdict: Blue Ribbon Bakery obviously does a lot of things well. They know how to bake up bread, as witnessed by the bun and the loaf before the meal. But when it comes to grilling burgers they let the grill soak up too much juice, leaving the Burgermeisters with a dry patty. Sadly, this keeps them out of the pantheon of great New York City burgers. Next time we'll try the fried chicken.