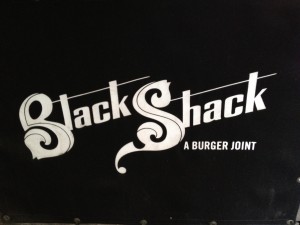 The Black Sheep of the Shack Family
Burgers Ordered: Brad – The Steak House; Matt – The Double Black Shack.
The Experience: The Burgermeisters had originally tried going to Better Burger for this Burger Adventure, not realizing that the Murray Hill location was closed for renovations.  Luckily for our burger team, Brad uploaded a map of every single Upcoming Adventure to his iPhone, and the oft-recommended Black Shack was only a block away.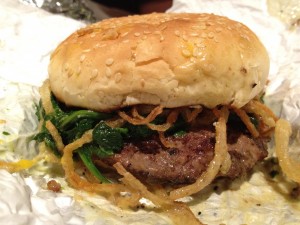 I'm strong to the finish, cuz I eats me spinach.
Black Shack is a typical fast casual restaurant (the last of such on the Burgermeisters' fast casual tour de force) with a few notable exceptions.  Though the spot is well-regarded, there is no anxiety inducing long line to stand in.  The fountain beverages notably include RC Cola, Stewart's Root Beer, and Bosco Chocolate Soda.  The Burgermeisters were geeked and wasted no time to eat their signature burgers, varied sides, and bottomless fountain drinks.
The Taste: Brad found his Steak House burger a unique treat.  The way the flavors of the spinach, horse radish sauce and fried onions combined made his first few bites incredibly memorable.  As the meal wore on he grew tired of the slightly overwhelming horseradish sauce.  Luckily, a fork and knife allowed him to ditch the sauce covered bun and eat his meat and spinach happily, in a fashion that would make Popeye proud.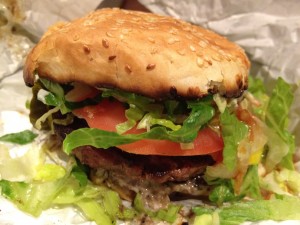 Double beef, double rabbit food.
Matt enjoyed his overloaded burger.  The double beef kept him full and satisfied, while the massive volume of condiments and veggie toppings were a bonus for him. He likened the burger to a high-end Whopper, though made sure to point out that Burger King would be hard pressed to put a meal together with as much flavor as this.
As for the sides and bottomless fountain drinks, the Burgermeisters had no complaints.  Brad ordered regular french fries, which were good if not particularly memorable.  Matt ordered the Cajun fries, which surprised them with their power and probably left a more lasting impression.  Both Burgermeisters were very happy with their unlimited carbonated beverages.
The Verdict: The Burgermeisters were pleased to end their fast casual tour on a positive note.  When dealing with hamburgers on the cheaper side, a burger-lover often gambles with a shoddy product or delivery.  Black Shack has their game down, and is a respectable lunch for anyone unlucky enough to be traveling through Murray Hill.
Black Shack is located at 320 Lexington Avenue between 38th & 39th Streets.