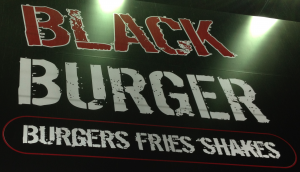 Late Night Action
Burgers Ordered: Brad & John: The Bacon Black
The Experience: In the grand tradition of our outing to Corner Bistro, we bring you another sauced Burger Adventure.  After a night of '90s nostalgia and rocking out to the sweet sweet sounds of the Bayside Tigers at Canal Room, Brad and some of his friends were on the lookout for french fries.
They stumbled into Black Burger hoping the curly fries would be enough to satisfy their inebriated hunger.  Brad was determined to simply eat fries and not have a spontaneous burger without Matt, who was out of town at a wedding.  But he could resist no longer when two events converged and made him entirely too hungry: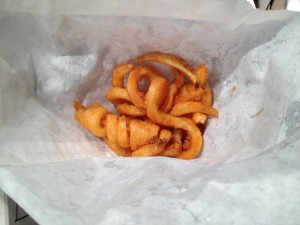 Extra fries… for free!
First, the burgers were constructed in full-view of the customer.  Every ingredient looked pretty fresh and the finished product looked almost like it was out of a burger-loving cartoon.  Second, when Brad and John (Brad's temporary Burgermeister companion for the evening) asked what the special sauce tasted like, the awesome employees of Black Burger gave them extra seasoned curly fries (which were amazing) to dip and try for themselves.  With that, the burger purchase was sealed.
The Taste: When the Burgermeisters went to Corner Bistro, they talked about why a late-night burger can be judged based on inebriated opinions alone, and do not have to meet a sober standard.  Since Black Burger is opened so late on the weekends, the Burgermeisters feel comfortable giving it its drunken seal of approval.  That being said, Black Burger is apparently a relatively bustling lunch destination for those who work near Canal Street, so here are a few thoughts for the sober diner: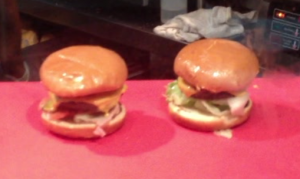 Burger construction on display.
The burger will be overcooked.  It won't be completely dry, but it won't be a run-down-your-chin juicy burger experience.  The rabbit food is tolerable but not the best.  The bacon is actually quite good, as are the cheese and condiments.  For a simple white-bread bun, Black Burger does the best they can with the bread they use.
The Verdict: For its incredibly low price, Black Burger produces a serviceable meal.  The fries are great and the burger is decent.  It's not as good as some other fast casual New York burger joints, but its also cheaper than most of them.  If you find yourself in the area for lunch you could do worse, and if you find yourself near the joint while intoxicated on a Saturday night, it's a safe and satisfying place.

Black Burger is located at 15 Canal Street at the corner of West Broadway.