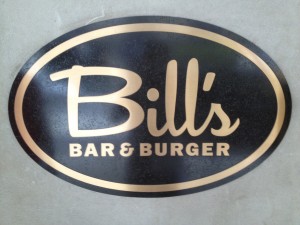 Burgermeister Reunion 2012
Burgers Ordered: Brad – Bacon & Cheddar Burger; Matt – Spicy Jalapeno Burger
The Experience: In 2011, the Burgermeisters were separated by Hurricane Irene, and reunited to end the summer with a Burger Adventure at Mother Burger. This year, Matt took a summer hiatus from Burger Weekly so that he could travel around and grill up some burgers of his own. But now the summer is coming to a close the Burgermeisters are reunited once again, starting with Bill's.
Bill's is a big restaurant located in Rockefeller Plaza. The Burgermeisters went on this Burger Adventure on the weekend, which meant there was no shortage of tourists. Luckily for them however, the restaurant was largely empty for their late lunch, which left no obstacles between them and their burgers.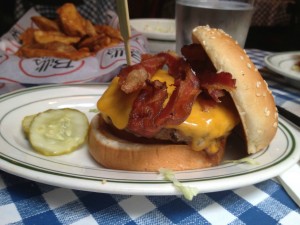 The Taste: Matt went more or less crazy for his Spicy Jalapeno Burger. The jalapenos were freshly sliced, rather than being jarred or pickled. He loved the chipotle aioli, which was generously slathered over the burger. Matt put ketchup on the burger before taking a single bite, and immediately regretted it as being unnecessary and distracting. The beef patty was flavorful and juicy, and despite the toothpick in the burger that marked it as cooked "rare," it actually came cooked to his desired medium rare temperature.
The bacon on Brad's burger got better with every bite, as the juices from the patty seeped into it. The cheddar cheese was stellar, making it hard for Brad not to consider converting from a gruyere champion. He also left his rabbit food (lettuce and tomato in this case) on the burger. Could he be turning into a grown up after all?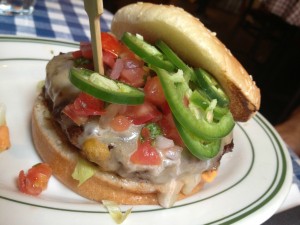 For sides, Brad ordered the steak fries, choosing to forgo the disco fries, and Matt ordered a big ol' bowl of coleslaw. Brad's fries were tasty, especially when dipped in his fatty, delicious mayo. Matt enjoyed the mayo that his coleslaw swam in as well, and decided that for three dollars it was a sufficient side.
The Verdict:The Burgermeisters have been told that Bill's Bar & Burger is sometimes quite crowded because of the touristy area that it calls home. If you can find a quiet time to give a visit to this burger joint, or its Meatpacking District location, the Burgermeisters recommend that you do so.
Bill's Bar & Burger is located at 16 51st Street between 5th Avenue and 6th Avenue.