Burgers Ordered: Matt – Fresh Mozzarella Burger
The Experience: So Burgermeister Matt's sister got married this past weekend. He thanks all of you in advance for your best wishes and congratulations. After waking up the day after the festivities, he tried to think of how to end this memorable weekend of horrific dance moves and open bar debauchery. Then it dawned on him… Why not eat a burger.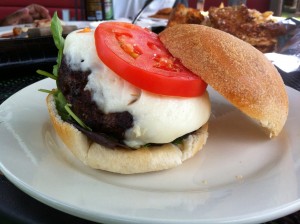 On the drive back from Plattsburgh, New York, Matt and his brother stopped by a little restaurant comfortably tucked in the foothills of Hunter Mountain. With a championship mini golf course and a breathtaking view of the mountain, Matt was ready to indulge in some red meat.
The Taste: So we all know how much Matt loves his buns, right? Obviously we mean the ones that the burger sit on. Well this one was hands down the best he's ever had. The dough was hand made and baked fresh, giving it Matt's ultimate "bomb" stamp of approval.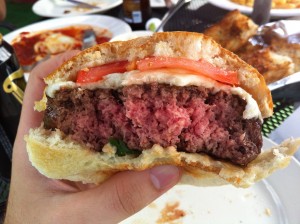 The patty was pleasantly seasoned and was cooked to the perfect medium rare temperature. It was a thick patty, but that didn't take away from it's circumference. Putting it simply: it was a big burger. Topped with fresh mozzarella, garden tomato, basil, and mixed greens, this burger was dressed to the nines. Although Matt still thinks that American cheese is the best melting cheese, it's always nice to change it up a bit and the fresh mozzarella did just that.
The Verdict:  If you are one of the lucky ones who may own a quaint little country home in upstate New York or enjoy hitting the slopes in the winter time, Bear Creek Restaurant and Recreational Park is a place you must visit. Mike, the executive chef is welcoming and fantastic. He'll make sure you get one of the best burgers you've ever had. Just tell him Burgermeister Matt sent you.
Bear Creek Restaurant is located at the corner of Route 214 & 23A in Hunter, NY.