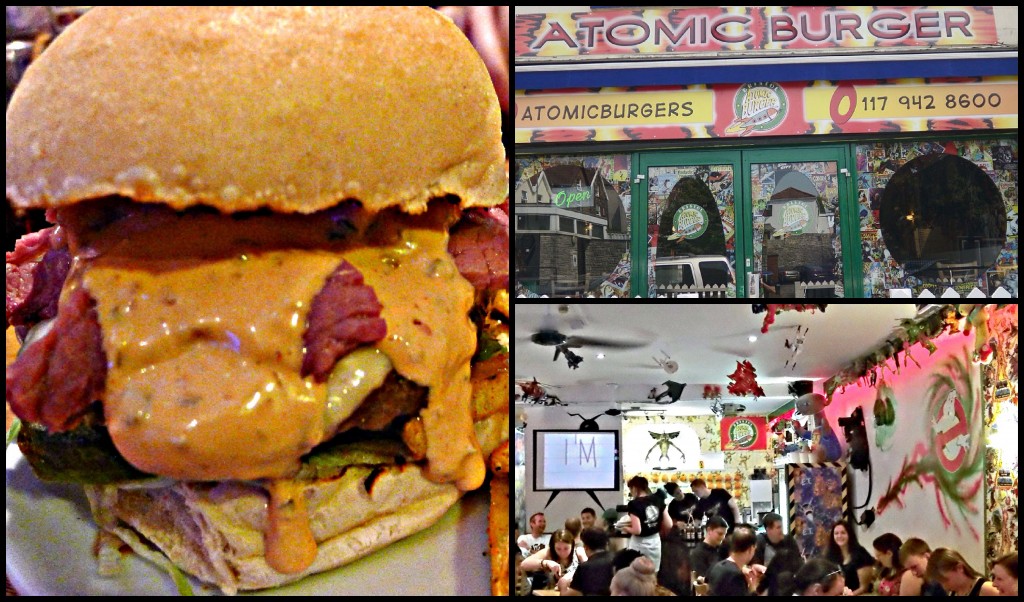 The Experience: Building on the success of Atomic Pizza and its sister restaurant Atomic Burger in Oxford, Atomic Burger opened in Bristol in 2012 at its prime location on the busy Gloucester Road. The restaurant itself has its theme firmly rooted in pop culture. If you are a child of the 80's you'll get most of the references. The restaurant is kitted out with all sorts of memorabilia, from Millenium Falcon toys to Ghostbuster backpacks. Most diners spend their time trying to name each and every reference that adorns the walls. You'll also find classic tv series and films being shown on screens as well as a great soundtrack playing. The menu itself is also styled around a comic / sticker book. The burgers come with a huge variety of toppings all named after pop culture references (The Dead Elvis, Cheech and Chong, Daisy Duke and Babe Ruth to name but a few). Atomic Burger is also home of the legendary Fallout Challenge which involves a triple burger stack, triple chili fries and the super hot XXX Fallout Ghost Chili hot sauce. The place is generally heaving on an evening and its best to book in advance.
Burger Ordered: The Mel Brooks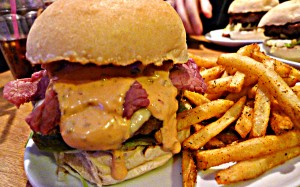 The Taste: The Bristol Burgermeister had the Mel Brooks which came topped with Salt Beef, thousand island dressing, swiss cheese and gherkins. The bun was a locally sourced sourdough bun and it held up well under the weight of the burger and sauce and had a good taste and texture. The patty was cooked medium and was nice and pink in the centre. The grind of the patty was a bit on the fine side for the Burgermeister. The owner Martin explained that they grind the steak fairly coarse but then re-grind half the mixture a bit finer. This made for an interesting texture but regardless the patty was still juicy and had a good flavour. What made the burger was the great combination of flavours from the toppings. The salt beef and thousand island dressing complemented perfectly. The Sci Fries that came with it were double fried and covered in a garlic and chilli rub and were simply delicious.
The Verdict: The whole experience of Atomic Burger is great fun and much thought has gone into each element of the menu. Whilst the burger patty itself could have been coarser ground the amazing combinations of toppings and great theme of the restaurant itself are what draw burger lovers back week in week out.
Atomic Burger is located on 189 Gloucester Road in Bristol, England.
You can read more of Fabian Yeo's food reviews at Adventures in Gastronomy.