Burger Ordered: Bacon Cheeseburger
The Experience:  The Après Ski Pub is located in a tiny corner of a gigantic indoor water park and arcade at the ski resort Boyne Mountain, so it serves mostly skiers and water parkers. It might be a little jarring to outsiders to walk in and see half the room bundled up in ski attire and the other half only wearing bathing suits and perhaps wrapped in a towel. The bartenders are amongst the friendliest workers the Boyne Burgermeister has encountered on his mission to devour every burger at Boyne Mountain, and are a pleasure to talk to.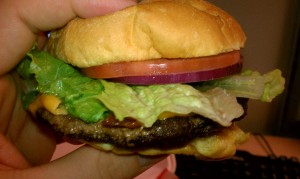 The Taste: With a limited menu, Après Ski Pub focuses on a couple of bar-type foods and does a good job with them. They don't ask how you want the burger cooked, but that's pretty standard for a quick-serve bar. The patty is solid, and the bacon was nice and crispy. Burgers come with the standard American cheese, pickles, lettuce, onion, and tomato, and everything comes together for a pleasurable if not overly memorable taste. By far the best part of getting a burger at the Après Ski Pub is getting the waffle fries on the side, which come in abundance. More places should offer waffle fries.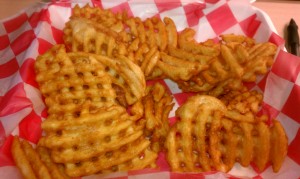 The Verdict – If you're out skiing or at the Avalanche Bay water park, Après Ski Pub is a perfect place to pop in and grab something quick and easy. The burger is good enough (especially for the cheap price) for what it is but wouldn't suggest going out of your way to eat there.
Après Ski Pub is located at 1 Boyne Mountain Road in Boyne Falls, Michigan.